Plastic Cam Followers With High-Speed Capacity
Featured Product from Stock Drive Products & Sterling Instrument - SDP/SI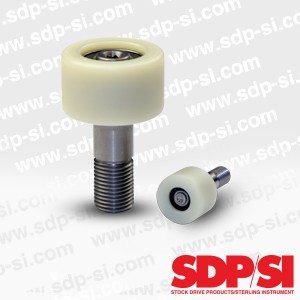 In many of today's high-speed and lightweight applications, plastic components succeed where metal formerly served. SDP/SI's new cam followers using plastic, high load capacity composite rollers are a maintenance-free alternative to traditional metal designs.
These plastic cam followers, identified as the
S7NSRY-...
series, are designed to transmit motion and carry load in today's high-speed and light-duty machines in medical, packaging, and semi-conductor equipment. Using plastic-composite rollers they are the best choice for many applications including cleanroom operations. Two possible sources of contamination – excess grease and metal particulates due to metal-on metal contact are eliminated due to the self-lubricating material of the roller.
Traditional metal cam followers are built for high loads, yet in many applications are used to transmit motion, not for their load bearing capacity. Rail or cam surfaces must be hardened and a manual or central lubrication system must be provided to protect the bearings and rail from failing. The plastic cam followers are a cost saving alternative, providing years of maintenance-free operation without damaging rails, especially aluminum.
Features:
Drop in and forget replacement for metal cam followers
Eliminates costly maintenance
Greaseless, no grease needed for the bearings or the rail
High load ratings
High-speed capacity
Clean operation, will not contaminate product or surroundings with lubricant or metal flakes
Can support axial load Low-rolling resistance
Built for high-speed applications
Precision ball bearings pre-lubricated for life
Maintains dimensional stability under adverse conditions
Light-weight compared to metal
Does not wear steel or aluminum surfaces
Available with Stainless Steel bearings and shafts
Polymer tire does not absorb moisture, suitable for washdown
SDP/SI offers a wide variety of inch and metric small mechanical components for the design engineer and OEM. Standard components can easily be located and purchased in one convenient place, shop online 24/7. The engineer not only meets all his component requirements, but saves valuable time by not having to search other sources. For custom design and manufacturing, speak to our engineers at (516) 328-3300.

Quotes, online orders, and 3D CAD models are available at our estore at http://shop.sdp-si.com/catalog/.


SDP/SI - Stock Drive Products/Sterling Instrument, a Designatronics company
250 Duffy Avenue, Hicksville, NY 11801
Phone: (516) 328-3300; (800) 819-8900
www.sdp-si.com