E Series Submersible Recirculator
Featured Product from Vaughan Co., Inc.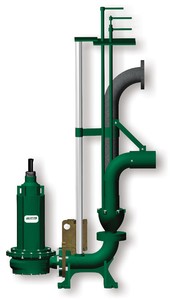 All 3" through 6" Vaughan Submersible Recirculating Pumps are available with a Recirculating Nozzle option for pre-mixing and recirculation of pits prior to pumpout. Floating or settled solids consisting of hair, rags, plastics, wood, grease and other solids are easily mixed and pumped. Applications include clarifier scum pits, sludge pits, wood and bark pits, and any other pits where solids collect.
Vaughan Submersible Recirculator Pumps consist of all the same features as Vaughan's SE Series Submersible Pumps, but with the addition of a Recirculation Nozzle system, including a special valve assembly for selection of full or partial flow in recirculation or discharge, a 4" nozzle which can be adjusted 70 degrees vertically and 215 degrees horizontally, and reach rods through the deck plate for ease of operation.
Allows 3"-6" Vaughan Submersible Pumps to be used for mixing/pumpout of pits over 20' deep.
Ideal for mixing of floating or settled solids.