Vaughan Hydraulic Submersible Chopper Pump
Featured Product from Vaughan Co., Inc.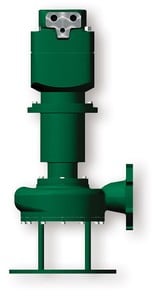 The Vaughan Hydraulic Submersible is the contractor's answer to dependability in a portable pump. The Chopper Impeller Design eliminates clogging in storm drains, sumps, lagoons, lift stations and other areas where unknown solids are a problem. Vaughan's unique seal-and-bearing design isolates the motor from pumpage, extending life and reducing downtime.
Hydraulic motor is mounted to an oil filled bearing housing. The bearing housing supports double row thrust bearings and a silicon carbide mechanical seal to isolate the motor from the pumpage. As with all Vaughan Pumps, the chopper impeller and cutter bar protect the pump from plugging.
Portable pump for tank cleaning
Lighter weight than other submersibles
Ideal for mobile equipment