Mouldings Information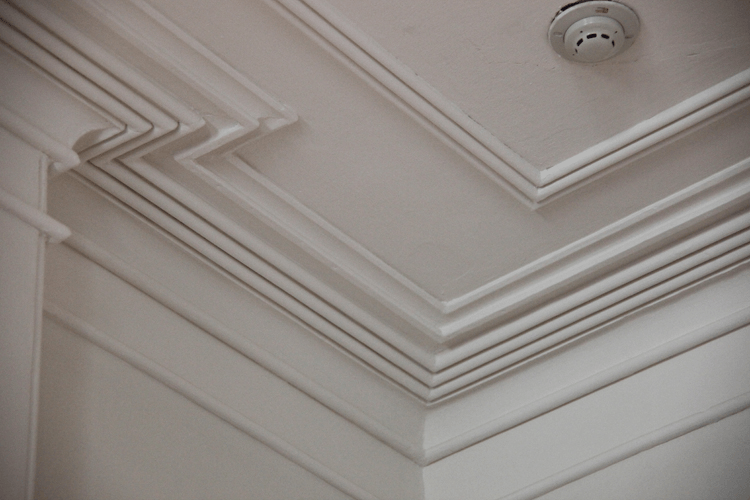 Moldings are profile-cut lengths of wood, medium-density fiberboard, foam, or polyvinylchloride that are placed around openings such as windows and doors, or around ceilings and floors to give them a finished, decorative appearance.
Types
Molding and millwork come in a wide variety of types, including:
crown molding
ceiling and window trim
coves and domes
medallions and rosettes
hand, chair, and wall rails
door stops
jambs and sills
baseboards
wainscoting
others

Moldings are typically supplied as components that are pieced together on the wall, ceiling, or work surface, and are secured together as one architectural ornament using nails, glue, or both. Wax is used to fill any nail holes, while color-coordinated putty is used to fill cracks or gaps between the molding components. Caulking is used at the edge where the molding meets the wall or ceiling surface. These steps ensure that the molding is completely smooth and seamless before painting.
Materials
While moldings are typically made of wood, they can also be constructed using plaster, cement, medium density fiberboard (MDF), flexible polymer resins, and polyurethane. Medium density fiberboard (MDF) is made from wood fibers that are glued together under pressure and heat. The material makes it ideal for moldings because it is stiff and has no surface grain, making it easy to be drilled, machined, and cut without damaging the surface.

Flexible polymer resin moldings can be curved or formed into complex shapes. Resin components can be nailed or glued together just like wood molding and millwork. Another benefit to polymer resin moldings is that they do not deteriorate, rot, or swell like wood does. These polymer components can be used for all kinds of molding, like keystones, corner blocks, and rosettes.
Features
Some molding companies also manufacture finished products that typically require several layers of molding. For example, moldings like architraves feature several layers to achieve a particular effect. Modern machining techniques allow companies to mill components with intricate and complex profiles, rather than requiring the layering of multiple strips of molding.

Other molding and millwork components mimic classical architectural features like dentils, which are a series of blocks set a certain distance apart. Now, with materials like polyurethane and resins, these features can come in strips of particular dimensions that can be custom cut to fit in a variety of applications.
Image credit:
Tim Evanson / CC BY-SA 2.0