Formulation, Blending, and Compounding Services Information
Formulation, blending and compounding services specialize in the custom or contractual processing, development, and/or packaging of bulk materials such as plastics, elastomers, adhesives, chemicals, pharmaceuticals, and lubricants. To produce a finished product, they combine materials ranging from high-purity, single component chemicals to compound adhesive mixtures with resins, fillers, colorants, and additives.
This diagram illustrates in-line compounding with glass rovings and additives during the production of direct long fiber reinforced thermoplastics (D-LFT).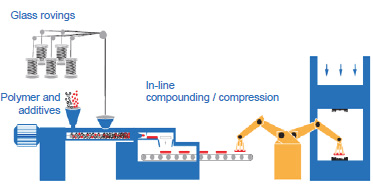 Image Credit: National Research Council Canada
Supplier Capabilities
The Engineering360 SpecSearch database provides information about companies that provide some or all of the following type of services. Note that some suppliers specialize in working with specific types of chemicals or materials, and may also process scrap or waste.
Blending services may use tank farms, in-process heaters, and high-sheer mixing to combine ingredients such as liquid or powder chemicals through closed lines.
Compounding services mix, blend, and/or react all of the materials needed to product a finished product. With pharmaceutical compounding, for example, flavors may be added or potential allergens removed.
Formulation services combine ingredients in specific amounts according to a customer's processing instructions. Typically, they work with chemical, polymer, or material intensive products.
Inspection and analytical testing services ensure the quality, structure, and safety of formulated, blended, mixed, or compounded products.
Trial facility leasing services provide contractual access to trial facility so that customers can evaluate or prove processes and process equipment before making major capital expenditures. Facilities may be on-site or in-house. Contracts typically include rental fees, lease terms, transportation costs, and cleaning.
Warehousing and distribution services store and ship finished products, and may also perform logistics and inventory control functions.
Other types of services include process optimization, research and development, and training and consulting.
Batch Sizes and Material Forms
When sourcing suppliers, industrial buyers should consider the run or batch size for their application. Companies that specialize in small quantities may not be able to handle production runs, and vice versa.
Laboratory or benchtop services can process small quantities up to a few pounds or gallons.
Pilot scale services specialize in quantities ranging from several drums to hundreds of pounds or gallons.
Field scale or production lot services have processing ranges that are measured in thousands of gallons or pounds.
The Engineering360 SpecSearch database also lets buyers specify the chemical or material type and form (such as bulk solids or liquids) for industrial suppliers to process. There are many different types of chemicals and materials, of course, and companies that blend greases or lubricants may not blend biochemicals, too. Conversely, formulation or compounding services that serve the petrochemical industry may not have the production capabilities or comply with regulatory requirements for the pharmaceutical industry.
Resources
Tutorial - Blending and Formulation
Powder Blending, Blend Uniformity, and Segregation
Read user Insights about Formulation, Blending, and Compounding Services