Tool Turrets Information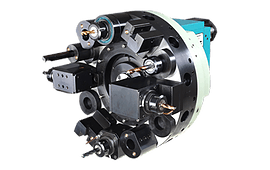 Tool turrets are indexing tool holders for lathes, transfer machines, and other machine tools. They allow equipment to carry multiple cutting tools at one time and mount individual tools in the correct sequence. Tool turrets can replace a manual tool post or rotary indexer to improve processing efficiency and reduce setup costs. Tool turrets rotate along a vertical axis to bring each tool into the correct position during the turning cycle. Typically, the entire tool turret is moved lengthwise to provide a feed for the tools. By combining multiple operations onto one machine, an operator can reduce the number of steps required to process parts. This results in shorter production times and reduced positioning errors.
Types
There are several basic types of tool turrets. Crown turrets have an indexing face and an axis of rotation that is angled to the tool turret's mounting surface. They hold live tooling machine tools, such as drills, that are driven or rotated. Most crown turrets are used in high performance, mass production machining. Drum turrets have a flat, indexing face that is perpendicular to the turret mounting surface. They can hold static or live tools. Vertical turrets or head turrets have a vertical indexing axis, typically with four or six positions. Other unlisted, specialized, or proprietary tool turrets are also available. For example, turrets with bi-directional indexing can index in both clockwise and counterclockwise directions.
Specifications
Specifications for tool turrets include number of indexing positions, turret drive, locking system, and tool capacity. Most suppliers provide tool turrets with four, six, eight, 10, 12, or 16 indexing positions. Tool turrets can be driven by: an alternating current (AC) motor, hydraulic motor, stepper motor, or servomotor.
Manually indexed turrets are also available. Most tool turret locking systems use pneumatic, hydraulic, mechanical, or electromechanical power. Tool capacity is measured in English units such as inches (in.) or in metric units such as millimeters (mm).
Inch-based tool capacities include:
.500 in.
.625 in.
.750 in.
1.000 in.
1.250 in.
1.500 in.
Millimeter-based tool capacities include:
12 mm
16 mm
20 mm
25 mm
30 mm
32 mm
40 mm
50 mm
60 mm
Features
Tool turrets may include programmable features such as automatic timers, program storage capacity, and tool compensation functions. They may also have internal passages for delivering coolant to tooling. Setting an automatic timer enables a tool turret to use the correct tool at the proper time in the tool turning cycle. Programmable features that enable tool turrets to position tools for cutting can reduce machine stops and increase overall throughput.
Related Information
Engineering360—Tool Posts Information
Engineering360—CNC Tool Changers Information
Engineering360—Punch Presses Information
Image credit: