Mold Bases and Mold Plates Information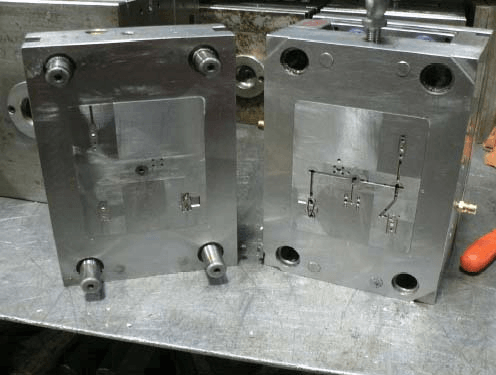 Mold bases and mold plates are used to support molds and tooling in injection molding, compression molding, and resin transfer molding (RTM) processes. Mold bases are built on multi-axis CNC machining centers and are made of metals such as aluminum or steel.
Specifications
Product specifications include:
mold base height, width, length, and weight
A-plate, B-plate, top-clamp plate, and support-plate thickness
riser height thickness
Return pin diameter and leader pin diameter are also important considerations. Other parameters for mold bases and mold plates include the maximum stroke of the ejector bar, ejector bar thickness, ejector retainer thickness, and return pin location. The return pin location on the X- or Y-axis may be specified in three or four places, respectively. The return pin offset on the X-axis is often specified in only one place.
Materials
When searching for mold bases and mold plates, material selection is an important consideration.
Aluminum mold bases can be made from very dense, dimensionally-stable, high-strength aluminum plates that do not require heat treatment. These aluminum mold bases are less expensive than steel molds, and are suitable for applications that require multiple mold cavities. Some aluminum mold bases and plates are made of cast metal. Others are wrought or rolled. Although wrought aluminum is suitable for some applications, mold bases and mold plates that are made of cast aluminum offer several advantages. These include better dimensional stability throughout the mold plate, tight dimensional tolerances, and ease of handling.
Steel mold bases and steel mold plates are made of metals such as ASTM A-36, AISI 4130, and modified P-20. Pre-hardened stainless steels offer good indentation resistance, excellent machinability, and uniform hardness. Because they resist corrosion, steel mold bases and steel mold plates are a good choice for humid environments and mold-making applications that use engineering resins. With steel mold bases and plates, production costs can be reduced through greater heat transfer via corrosion-resistant water channels. The use of stainless steel mold bases and mold plates also provides consistent cycling time and reduces wear on the cutting edges of milling and drilling tools. In addition, increased cutting speeds can provide shorter machine times.
Related Information
CR4 Community—SMC/BMC Mold Design Points
CR4 Community—Mold and Manufacturer
CR4 Community—Sand Castle Molds
CR4 Community—Fracture Line in Concrete Molds