Leaf Chain Information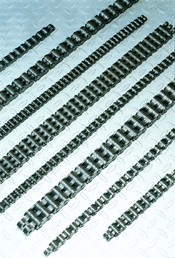 Leaf chain is a rollerless chain that is commonly used on forklift trucks and in other material handling applications. Leaf chain is constructed of steel link plates mounted side-by-side on pins. The contour of the link is the same figure-eight shape found on standard roller chains. The chain can flex at each pin. Leaf chain is used in tension linkage applications, where the chain is kept in tension and can be moved in either direction. Leaf chain is commonly used on forklift trucks and in other material handling applications. Leaf chain is also referred to as cable chain and balance chain.
Applications
There are different classes and applications for leaf chain. These include agricultural chain, conveyor chain, engineering steel chain, oil field chain, and power transmission chain.
Agricultural leaf chain is used for agricultural applications.
Conveyor leaf chain is specially designed for use in conveyor applications. This category includes roller chains with special attachments, flat-top leaf chains, and silent chains.
Engineering steel leaf chains are manufactured from machined and fabricated steel. This type of leaf chain can be used for a variety of industrial applications.
Oil field leaf chains are heavy-duty chains that are tested according to American Petroleum Institute (API) guidelines.
Power transmission leaf chains are used in power transmission drive applications.
Specifications
Specifications for leaf chains include series type. There are three main types of leaf chain series: AL series, BL series, and LL series.
AL series leaf chains have link plates that are the same contour and thickness as the ANSI roller chain pin links of the same pitch.
BL series leaf chains are designed to link plates that are thicker and have a larger contour than the AL series link plates of the same pitch. The BL series link plates and pins are the same as those of the ANSI roller chain of the next larger pitch.
LL series leaf chain is based on British Standard chain dimensions. LL series leaf chain conforms to the ISO 606 international standard.
Specialty leaf chain may also be available from some suppliers.
Related Information
CR4 Community—How to Calculate Chain Inertia
Image credit: