From
Motors and Drives
Enclosure Types and Cooling Methods
There are various types of enclosures associated with DC motors. The following are the more common configurations found in industry. The system of cooling or ventilation is inherent in the enclosure design. In most cases, to allow the motor to develop full torque at less than 50% speed, an additional blower is required for motor cooling.
DPFG (Drip-Proof Fully Guarded)
The drip-proof fully guarded (DPFG) type of enclosure is self-ventilated and has no external means of cooling. In many cases, these types of motors can be modified to accept additional outside air. Most DPFG designs can generate 100% rated torque down to 50% of base speed. Figure 3-8 shows a DPFG motor.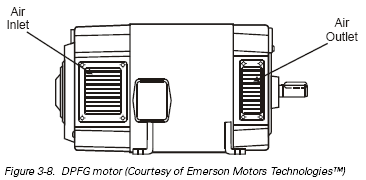 DPBV (Drip-Proof Blower Ventilated)
The drip-proof blower ventilated (DPBV) type of enclosure has an integral blower, which may or may not include a filter. The blower is typically mounted on the commutator end to provide constant cooling airflow. It is not uncommon for blower ventilated motors to deliver 100% rated torque down to 10 or 5% of base speed. Figure 3-9 shows a DPBV motor.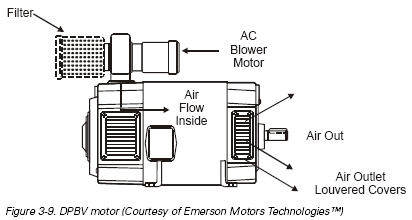 DPSV (Drip-Proof Separately Ventilated)
The drip-proof separately ventilated (DPSV) type of enclosure uses ducted air in the CFM...
More >>
Show More...
© 2003 ISA
---
Products & Services
---
Topics of Interest