About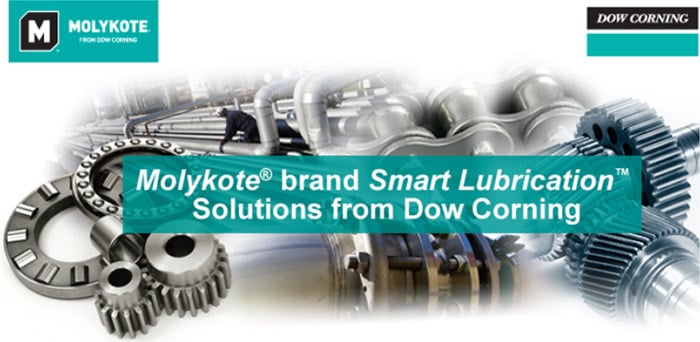 High-performance DowCorningMolykote® specialty lubricants from Dow Corning can help reduce wear, optimize friction and provide effective lubrication in demanding applications. Hardworking lubricants are available for equipment with heavy and static loads, in severe-duty environments, exposed to extreme heat and cold, and operating at a variety of speeds. They are formulated with advanced-technology base oils, including silicones and other synthetic fluids; solid lubricants; corrosion inhibitors; and other beneficial additives to provide the right properties to meet demanding application requirements.
When it has to work, it has to be DowCorningMolykote® brand. Advanced lubricants deliver smart solutions for diverse industries and key challenges.
Advanced Product Solutions
DowCorningMolykote® brand offers application-matched materials:
Anti-seize pastes with synergistic combinations of lubricating solids for boundary and mixed friction
Anti-friction coatings for bonded dry-film lubrication that withstands dust, dirt and moisture and helps solve NVH problems
Industrial greases with special additives and consistencies for severe-duty lubrication
Silicone compounds for metal-to-rubber or metal-to-plastic lubrication, sealing and electrical needs
Lubricating solids and powders for engineering specialized friction-control materials
Lubricating oils and dispersions with solid lubricants to provide wet-film and boundary lubrication
Learn More
Diverse Industry Solutions
DowCorningMolykote® brand delivers proven, effective performance for:
Energy generation
Facility infrastructure
Heavy industry
Food and beverage machinery
Oil and gas
Chemical and petrochemical
Water management
Automotive manufacturing
Appliances
Maintenance, repair and overhaul (MRO)
Learn More
Key Job Challenges
DowCorningMolykote® brand solutions help customers:
Improve reliability
Reduce energy waste
Improve productivity
Manage severe duty
Extend equipment life
Use registered products
Increase sustainability
Learn More
Get the Job Done Right:
DowCorningMolykote® brand Smart Lubrication™ solutions offer customers proven and effective specialty materials, collaborative problem-solving, and a full range of technical services and support. For more than 60 years, design and maintenance engineers worldwide have used DowCorningMolykote® specialty lubricants to solve or prevent tough lubrication problems and to save energy by reducing friction and wear. Read about the DowCorningMolykote® brand history: 60 Years of Smart Success (PDF).
Today, the DowCorningMolykote® brand brings together technology-driven solutions, respected lubrication experts and smart customers. Use our Lubrication Troubleshooting Guide.
Full Range of Industrial Assembly and Maintenance Solutions:
Advanced DowCorningMolykote® brand specialty lubricants
High-performance Dow Corning® brand adhesives and sealants
Durable Dow Corning® brand silicone and fluorosilicone elastomers
Supplier Directory Categories
Technical Articles