About
Let our steam expertise fuel a more sustainable tomorrow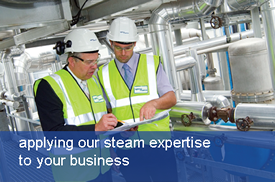 Your business continues to face new challenges. Productivity may be up. Costs may be down. But in today's economy, any such gains are often only short-lived. That's why Spirax Sarco is committed to helping steam users in all industries achieve growth that is both profitable and sustainable. We are the world's leading provider of steam system solutions.
Through our global network of over 1,300 dedicated industry engineers in 34 different countries, and with over 100 years of experience, we can give you access to the expertise and resources you need to improve the performance of your plant, comply with legislation, meet environmental goals and stay ahead of even the most intense competition.
Our specialist disciplines

Our experience

Our commitment to you
How can we help?
You can rely on our specialist expertise. Whatever it is you need to know about our full range of steam systems products and solutions, our experienced engineers are only a click or a call away:
Ask us a question online for a prompt response.
Request a personal visit to assess your plant.
Supplier Directory Categories
Spirax-Sarco is also listed in these categories:
Technical Articles