About

We Matter.

Now More Than Ever.
More than a slogan, it's how we work. Why should you care about a manufacturer of components such as reed switches and relays, planars, inductors, magnetic sensors, and switches? What are these products anyway? Why do we matter? This is a fundamental question of any business. For constituents to better grasp our purpose and unique values, "WE MATTER.™" was born. When you open a door, flip a switch, measure fluid level, track an object, adjust a thermostat, fly a plane, drive a car, captain a boat, wash your clothes, get a medical test, or thousands of other activities – we are there...more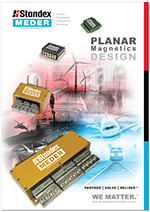 Standex-Meder Electronics is a worldwide market leader in the design, development and manufacture of standard and custom electro-magnetic components, including magnetics products and reed switch-based solutions.
Our magnetic offerings include planar, Rogowski, current, and low- and high-frequency transformers and inductors. Our reed switch-based solutions include Meder, Standex and OKI brand reed switches, as well as a complete portfolio of reed relays, and a comprehensive array of fluid level, proximity, motion, water flow, HVAC condensate, hydraulic pressure differential, capacitive, conductive and inductive sensors.
We offer engineered product solutions for a broad spectrum of product applications in the automotive, medical, test and measurement, military and aerospace, as well as appliance and general industrial markets.
Standex-Meder Electronics has a commitment to absolute customer satisfaction and customer-driven innovation, with a global organization that offers sales support, engineering capabilities, and technical resources worldwide.
Headquartered in Cincinnati, Ohio, USA, Standex-Meder Electronics has eight manufacturing facilities in six countries, located in the United States, Germany, China, Mexico, the United Kingdom, and Canada.
For more information on Standex-Meder Electronics, please visit us on the web at standexelectronics.com.
Global leader in the design, development and manufacture of standard and custom electro-magnetic components.
Magnetics | Planar, Current Sense, Low & High-Frequency Transformers | Reed Switches, Relays, and Sensors
Supplier Directory Categories
Standex-Meder Electronics is also listed in these categories:
Technical Articles