HEAVY DUTY SHIELDED CONTROL-POWER CABLES
Featured Product from BRIM Electronics, Inc.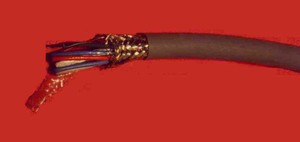 HEAVY DUTY SHIELDED CONTROL-POWER CABLES
MIL-W-16878D TYPE C-18 1000V
MIL-W-16878D Ty. C-18, 19/30 TC conductors, twisted, mylar wrap braided tinned copper shield -- 90% minimum coverage — chrome PVC jacket overall. Color coded. Cable resistant to acids, oils, moisture, solvents alkalis, fungus. Cable meets UL VW-1 vertical flame test requirements.
Suitable as an interconnecting cable for electronic equipment, instrumentation, control, telemetry data, and remote control of sensitive recording instruments.

OPER.TEMP.: -55°C to +105°C.
OPER. VOLT.: 1000V.
STD. P-U: 500', 1000'.
RoHS compliant constructions are available to order.
OTHER CONSTRUCTIONS AVAILABLE TO ORDER.