ST60 Silicon - Thermopile Detector
Featured Product from Dexter Research Center, Inc.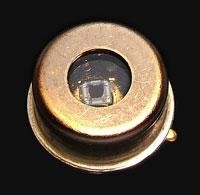 Features:
A single-channel silicon-based thermopile provides lowest cost solutions in a small active area of 0.61mm x 0.61mm in a TO-5 package. Time constant of 18ms with Nitrogen encapsulation gas. Delivers a very low Temperature Coefficient of Responsivity of -0.04%/°C. This detector has a very short thermal shock response to ambient temperature change.
Applications:
Excellent for non-contact temperature, fire suppression, horizon sensor, and gas analysis.
Benefit:
Low cost and small active area size with medium output.
Options:
See Standard Windows and Filters for list of optical filter options.
ST60R TO-5 version offers a low-cost (20% tolerance) poly-silicon resistor to be used as a PTC thermistor.
Internal 30kΩ 5% NTC chip thermistor provides ambient package temperature measurement. See DC-4005 section of Thermistor Options .
See Thermopile Configuration Table for more options.