Temperature Sensor Modules...Expanded Range
Featured Product from Dexter Research Center, Inc.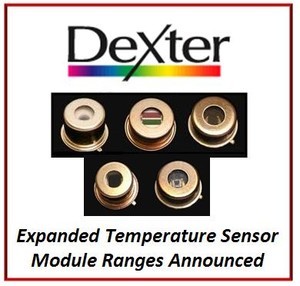 Dexter Research - Temperature Sensor Modules with Expanded Range. Recently announced - expansion of its Temperature Sensor Module line and can now offer extensive application solutions to OEM's around the world.
Dexter's Temperature Sensor Module is a ready-to use, cost-effective, non-contact IR thermometer. Calibrated output provides accurate object temperature sensing. You can customize this unit to accommodate a wide range of temperatures, power supplies, refresh rates and object emissivity. High memory reliability is assured by our TSM's embedded error checking and correction mechanism. Our TSM is housed in a industry standard TO-5/TO-39 package.
Quick Links:
Need a tailored solution? - that is what we specialize in.
Applications are found across many disciplines that include:
Healthcare
Human and animal body temperature measurement
Thermal comfort sensor for built-in and portable HVAC control
Temperature measurement and control of manufacturing equipment
Temperature measurement and control of home appliances, printers and copiers
Thermal relay, alarms and notifications - can be integrated with email and text notifications
Dexter's TSM is ideally suited for handheld portable applications thanks to its low power consumption and sleep mode. Our digital sensor interface offers you a choice of a power-up-and-measure PWM or an enhanced access SMBus compatible protocol. Just two signal lines can accommodate systems with up to 100 modules. A wide variety of freezing/boiling prevention and alert systems are made possible thanks to a built-in thermal relay function.
About Dexter Research - The World Leader in Infrared Thermopile Detectors:
Dexter Research Center, Inc. was founded by Robert Toth, Ph.D in 1977. From either the perspective of systems performance or systems cost, customized applications of Dexter Research's thermopile technology continue to be the preferred solutions to today's burgeoning infrared detector market.
Today, Dexter Research offers 31 core thermopile products, more than all global competitors combined, each 100% tested for industry-leading quality. We now provide our customers with a choice from over 800 thermopile configurations, and we have new thermopile detectors coming on-line and new customers using our products around the world.
Extensive line of Dexter Products includes:
Thermopile Development Tools, Thermacon Motion Sensors, Integrated Temperature Measurement Solutions