Polyclutch® Mechanical Slip Clutches
Featured Product from Dynatect Manufacturing, Inc.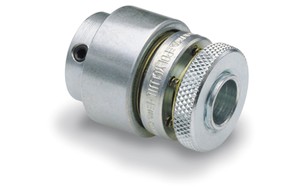 The most compact mechanical slip clutch with large torque capacity relative to overall size
Torque capacity up to 10 lb-in
Available in fixed torque or adjustable torque configuration
Can accommodates shaft sizes up to 0.375 inch (minimum 1/8″ bore size. Standard bore is 0.25″.)
Single-plate models have 2 friction surfaces, multi-plate have 8
Mechanical Slip Clutches
Polyclutch mechanical slip clutches consist of the Series 16, Slipper, V-Series, and Slip-Ease lines. These clutches use proprietary friction pads and plates to precisely regulate torque to deliver precise tension, protect from mechanical overload, or deliver an exact amount of torque. Torque capacities of range from 0.5 lb-in to 500 lb-in. Torque configuration can be adjustable or fixed (factory set). Work with our engineers for a custom design.
Dynatect
Dynatect (formerly A&A Manufacturing) delivers custom motion and protection for machines with deep application knowledge, diverse product offering, and a customer responsive sales philosophy. Dynatect provides engineering and manufacturing for custom applications which improve human-machine safety and machine uptime. We continue to build our customer experience through improving service differentiation, expanding product portfolio, and reducing lead times.
DYNAMIC PROTECTION = DYNATECT
The name comes from the words 'dynamic' and 'protection' because it is the accumulation of over 70 years of experience producing flexible protection for equipment in motion.
Dynatect Advantages & Capabilities
Why Dynatect?
Broad network of 50+ local factory-trained representatives offer onsite support, technical advice and recommendations
Speak directly to application specialists to receive upfront design assistance
Fast delivery of customized products, from concept to application
We will design and manufacture a turnkey engineered assembly (and one-time projects are not a problem!)
Access to new solutions for your industry, thanks to our active product research and development programs
Access to a broad range of materials including metal, engineered plastics, elastomers, and over 120 specialty textiles
Dynatect has the largest portfolio of protective covers, and is the only North American manufacturer of both plastic and metallic cable carriers
We can meet your needs from standard offerings to custom-engineered products configured around your application
Regular repeat orders? Dynatect has kanban and JIT programs to ensure reliable delivery with minimal inventory
Manufacturing
Laser and waterjet cutting
Horizontal and vertical machining
Precision grinding
Precision bending
Thermoset extruding
Automotive-grade painting
Welding (metal and thermoplastics)
Sewing
Spring winding
Assembly and finishing (buffing, painting, plating)
Custom molding of plastics (injection, compression, transfer, RIM, hot cast)
Ball screw and metal way cover repair and refurbishment
Design and Engineering
2D and 3D design from engineering, to approval, to manufacturing
Automated CAD-to-CAM processes
R&D, design, and reverse engineering
Leading-edge testing capabilities
Free web conferencing service to quickly assemble a design team to facilitate engineered solutions