CL-500A Illuminance Spectrophotometer
Featured Product from Konica Minolta Sensing Americas, Inc.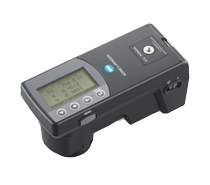 The CL-500A is a lightweight, compact illuminance spectrophotometer used for spectral evaluation of light sources including next-generation lamps such as LEDs, OLEDs and EL illumination. The advanced sensor measures CRI (Color Rendering Index), illuminance, chromaticity, color temperature and spectral power distribution of virtually any light source. The CL-500A is the first handheld illuminance spectrophotometer to conform to both DIN and JIS standards. Additionally, the S/P ratio of scotopic illuminance and photopic illuminance can be displayed.
The CL-500A's convenient measurement functions include continuous measurement mode, display of the averaging of multiple measurements, delayed-measurement function, and the display of data at a specific wavelength. The spectral irradiance can be measured at 1-nm pitch from 360 to 780nm, allowing it to measure the color of light and photosynthetic photon flux density (PPFD). Using the software development kid, you can obtain measurements as fast as 5 times/sec.
Included as a standard accessory, the data management software CL-s10w is easy to use Excel add-in software for easy control of measurement procedures. It includes a template for expressing the chromaticity variation of illumination light sources such as LEDs or OLEDs in terms of the MacAdam SDCM (Standard Deviation of Color Matching) step. This allows display of color differences that closely match visual judgment. LED binning functions, spectral irradiance waveform display, and informative color-rendering index displays are also equipped with the software.
Features:
Portable, lightweight, compact and handheld
Conforms to both DIN and JIS standards
High-speed measurement possible using the software development kit
Can be operated with USB bus power
Measures and displays both the general color rendering index (Ra) and the special color rendering indexes (R1 to R15)
Scotopic illuminance and the S/P ratio of scotopic illuminance can be measured with the instrument alone and with the included software
Measurement functions: Continuous measurement mode, average of multiple measurements, delayed measurement and the display of data at specific wavelengths
CS-S10w data management software included as a standard accessory

Play CL-500A Illuminance Spectrophotometer Video on YouTube