1/2 Inch, Portable, Compact, Inverter Stud Welder
Featured Product from Nelson Fastener Systems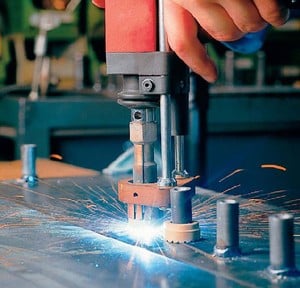 By no means light in power & precision, this new, dependable, compact and lightweight stud welder from Nelson Stud Welding can deliver up to 800 amps for 1/2" (12mm) full base diameter stud welding. Propelling stud welding into the 21st century the Nelweld® N800i™ is Nelson's third generation inverter technology and boasts some great features, including:
Friendly User Interface

10* preset buttons
Bright alpha-numeric displays
Graphic gun
Weld quality indicator detects bad welds from process signals

Precision Control (60,000 Hz frequency) ensures:

The most stable arc
Accurate heat input
Highest quality welding process

Gun Monitor™ - Built-in watchdog to match gun speed and adaptively compensate for gun wear
Stud Expert™ - Chooses setting from stud diameter and can be re-programmed by user spreadsheet
Pulse Waveform

Reduces heat input
Cuts surface contaminants
Stiffens arc for out-of-position weld
Delivering 50% more power than comparable products, the Nelweld® N800i™ supports drawn arc, gas arc and short cycle weld processes and also comes with an integrated gas control option which allows programmable pre and post flow for aluminum and galvanized sheet welding.
And even better yet...the Nelweld® N800i™ carries a 2 year or 1,000,000 weld warranty!
Contact Nelson Stud Welding today!