Nuclear Power Plant Weld Studs
Featured Product from Nelson Fastener Systems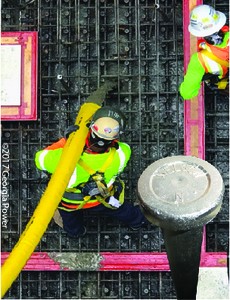 Concrete Anchors
NELSON STUD WELDING SPECIFICATIONS

H4L Headed Concrete Anchors

Nelson headed concrete anchors deliver code specified embedded tension and shear strength values between steel and concrete. These anchors meet requirements of the following codes:
AWS D1.1 Structural Welding Code - Steel, Type B
AWS D1.6 Structural Welding Code - Stainless Steel, Type A
AASHTO/AWS D1.5 Bridge Welding Code
ISO-13918 Welding - Studs for Arc Welding
Canadian Standards Association, W59 - Welded Steel Construction, Type B
International Building Code Section 19
See also: ICC-ES Evaluation Report ESR-2856 Nelson Shear Connectors
Headed anchors are widely used in precast, cast-in-place or composite steel construction for miscellaneous embedded plates, frames, curbing, attachments and connections.
For similar finctin studs, see Nelson S3L Shear Connectors, D2L Deformed Bar Anchors and D6L A706 Deformed Bar Anchors.