High Performance Aerospace Interconnect Solutions
Featured Product from PIC Wire & Cable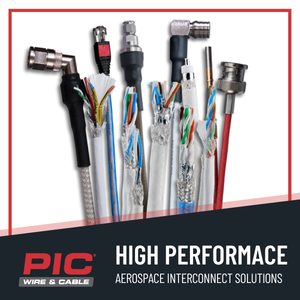 PIC® Wire & Cable offers specialty, high-performance electronic cables, connectors and assemblies for aerospace & defense environments, from airplanes, helicopters and UAVs to ground vehicles and ground shelters.
With PICMates cables, you'll find:
Robust and durable design to provide high performing, reliable signal transmissions with outstanding electrical & mechanical integrity

Significant weight savings for enhanced fuel efficiency and increased payload

Greater cable flexibility and smaller diameters for easier routing and installation in tight, crowded areas

Performance under pressure - Resistant to shock, vibration, abrasion, contaminants, temperature fluctuations and more.
Visit our website to learn more about our products.