Low Loss 50 Ohm Cables
Featured Product from PIC Wire & Cable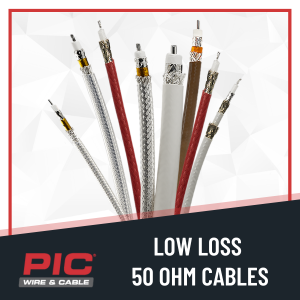 Elevate Your Connectivity with PICMates 50 Ohm RF Cables
In the realm of cutting-edge communication and data transmission, PICMates' 50 Ohm RF Cables stand as the epitome of excellence. These cables have been meticulously engineered to deliver exceptional performance, combining low attenuation, a lightweight design, and effortless installation to redefine your connectivity experience. PIC is confident that our RF cables will not just meet but exceed your expectations, setting a new standard for connectivity solutions.
Key Benefits:
Low Attenuation: The heart of PICMates' 50 Ohm RF Cables lies in their ability to minimize signal attenuation during data transmission. This translates to data integrity and reliability that you can trust, even in demanding applications.

Lightweight Design: We understand that every ounce counts, especially in aerospace & defense applications. That's why our cables are engineered to be lightweight, contributing to fuel savings and operational efficiency without compromising on performance.

Easy Installation: Convenience is paramount in today's fast-paced world. Our RF cables are designed for hassle-free installation, ensuring that you can set up your systems quickly and efficiently.
Our Cable Offerings:
UltraLite RF Cables (50 Ohm): These premium coaxial cables are built with a focus on low-loss and ultra-lightweight materials. They represent the pinnacle of cable engineering, providing you with a solution that prioritizes performance without adding unnecessary weight or bulk.

S Line of RF Cables (50 Ohm): Known as the industry's workhorse, our S Line of RF Cables boasts decades of proven performance in the aerospace and defense markets. When reliability is non-negotiable, you can trust in the track record of these cables.
Typical Applications:
Our 50 Ohm RF Cables find their niche in a diverse range of applications, including:
L-Band Air-to-Ground (ATG) Networks: Ensuring seamless connectivity for critical communications.
Active Electronically Steered Phased Arrays: Enhancing radar and communication systems with precision.
GPS Connectivity: Supporting accurate global positioning for navigation and communication.
Iridium: Enabling robust satellite communication solutions.
Ku-Band SATCOM Antennas: Delivering high-frequency satellite communications.
Swift Broadband: Providing swift and reliable data transmission for various applications.
PICMates 50 Ohm RF Cables are not just cables; they are the backbone of your connectivity solutions. With low attenuation, a lightweight design, and easy installation, they simplify your operations while elevating your performance. Switch to PICMates, and experience the future of connectivity today.