Low Loss, Lightweight 75 Ohm Aircraft Cable
Featured Product from PIC Wire & Cable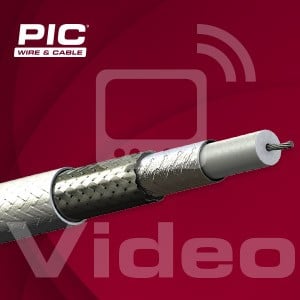 PIC VideoMATES® 75-ohm coaxial and triaxial cables are lightweight, flexible, low loss, high-temperature, high-tech cables designed specifically for aircraft systems and other harsh environments. All are constructed with silver-plated copper conductors.
Low Loss Coax Cable
PIC VideoMATES 75-ohm aircraft video cables are designed to minimize EMI while providing low-losstransmission of video signals for cabin security, in-flight entertainment and cockpit displays.
PIC VideoMATES aircraft cables and aircraft cable assemblies are widely specified for major avionic systems in commercial, corporate and military aircraft and all of them meet or exceed FAA flammability requirements.