Alumaguard Lite Flexible Jacketing and Cladding
Product Announcement from Polyguard Products, Inc.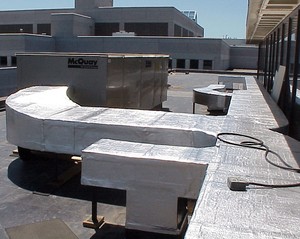 Alumaguard® Lite flexible weather-proofing cladding from Polyguard Products is one of the family of Alumaguard cladding products that offers superior cold weather performance, ease of handling and application and true zero perm performance.
Meets ASTM E84 25/50 Smoke and Flame requirements.
Cold weather acrylic adhesive allows installation down to 10ºF.
High puncture and tear resistance
Zero permeability
Easy to install with no special tools required
No pinning or activator required
Excellent emissivity
Available without adhesive for fabrication applications
Description
Alumaguard Lite is a 5-ply high strength composite membrane consisting of multiple layers of UV resistant foil and tough puncture resistant polyester. This multi-ply lamination is then coated with a proven cold weather acrylic adhesive to which is applied a heavy-duty kraft liner that gives the membrane its peel and stick functionality.
Uses
Alumaguard Lite is designed to be used outdoors to weather-proof exterior insulated ductwork, piping or otherinsulated tanks, vessels and equipment or indoors on pipe systems and ductwork where a true zero perm vapor barrier and durable outer jacket is required.
Alumaguard® Lite is not recommended on systems where heavy abuse is expected or on ammonia, brine or glycol systems where expansion and contraction could compromise the acrylic bond to the substrate. Refer to our technical bulletin on this subject.
---