Sealing solutions-Chemical Processing applications
Product Announcement from Precision Polymer Engineering Ltd.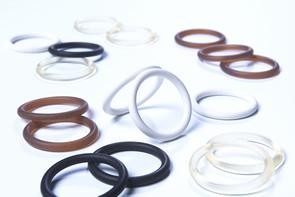 Sealing pumps, valves, tanks, fluid metering devices and reactors in the chemical processing industry requires high performance materials which offer excellent chemical resistance to various aggressive media. The diverse range of markets within this industry, including petrochemical and pharmaceutical, demand outstanding chemical sealing performance, reliability and increased service life, which in turn extends planned maintenance cycles of mechanical seals.

Critical to the reliability of pumps and rotating equipment are the O-rings and elastomer components within mechanical seals that can improve operating margins and prevent operational downtime.
Perlast® perfluoroelastomers (FFKM) provide the highest level of thermal and chemical resistance available, making them ideal for use in the most demanding chemical sealing applications. Refineries and chemical plants can reduce fugitive emissions from valves with optimized seals and by specifying the most chemically inert elastomer materials. Perlast® ICE extents the operational range of valves in cold temperatures, reducing the risk of seal failure in cold climates.
PPE offers an extensive range of materials that meet various international approvals and conformance requirements including FDA and USP Class VI for the manufacturing of active pharmaceutical ingredients (APIs). Coupled with the latest engineering expertize, PPE can provide superior chemical sealing solutions for pumps, valves, mechanical seals, pipe couplings and reactors, which meet or exceed your requirements.
To meet demanding chemical sealing applications, PPE seals are molded in a range of high specification materials capable of withstanding extreme high and low temperatures and harsh chemical environments. PPE offers seals in nearly every material family including FKM, FEPM, FFKM, and HNBR. Critical sealing applications benefit from our in-house seal design team that can customize and design the best sealing solution for the process.
With over 30 years experience working in the seal manufacturing industry, PPE can provide chemical sealing solutions that last longer, require less maintenance and deliver the lowest cost of ownership.
To find out which sealing materials are most suitable for your operating environment please visit our quick and easy to use Rubber Resistance Guide which provides details of chemical compatibility.
If you would like to find out what PPE can do for you, simply visit our contact page and click on your location to find your local PPE contact.
---