Custom Straight Side Gib-Guided Press
Featured Product from Savage Engineering, Inc.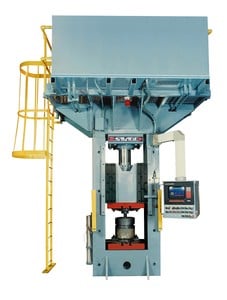 Known for their superior guidance, strength, and sturdy construction, straight-side presses, slab-sided presses, and straight side presses with pre-stressed housings are often preferred for the most physically intense applications. These highly-precise, gib-guided presses offer superior rigidity that stands up to the most demanding applications while maintaining platen parallelism regardless of bed size.
At Savage Engineering, we customize every straight side press to meet our customers' requirements. Based on your application, we provide customized:
Bed size
Stroke length
Daylight opening
Shut height
Speeds
For nearly 60 years, Savage Engineering has been designing and building high quality, durable custom hydraulic presses to meet each customer's unique needs and exact job specifications. Our process is fully integrated from concept to delivery. You'll receive onsite installation, training, and technical support throughout the operating life of your press.
Contact Us Today to Discuss Your Application! (216) 587-2885