Heat Detectors Information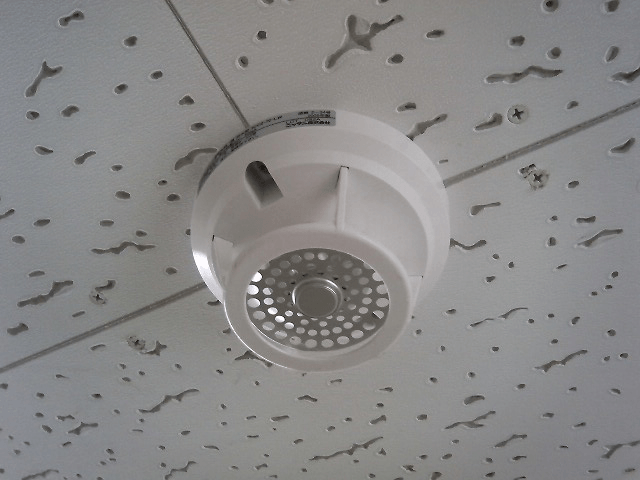 Heat detectors are fire detection devices that sense heat produced by combustion. They can trigger an alarm when a rapid temperature-rise is detected, or a preset temperature is reached. Products that are designed for ceiling mounting may conform to guidelines from the National Fire Protection Association (NFPA), a non-profit agency that publishes fire prevention codes and standards.
Features
According to the National Fire Alarm Code (NFPA 72), heat detectors on smooth ceilings should be spaced 50 sq. ft. or 2500 sq. ft. apart. Otherwise, spacing for heat detectors depends upon factors such as ceiling height and air movements. Most heat detectors are mechanical devices with a single or dual circuit. Some contain a fixed-temperature thermal sensor. Others have a combination fixed-temperature/rate-of-rise thermal sensor. Both types of heat detectors are designed to send an electrical signal to a control panel in order to trigger an alarm. Rate-of-rise heat detectors with fixed heat detection may contain a dual-thermistor, a heat-sensing circuit that triggers an alarm at a specified temperature in response to a degrees-per-minute temperature increase. In non-programmable heat detectors, the specified temperature is either 135° F (57° C) or 194° F (90° C). Typically, the temperature increase that triggers the alarm is 15° F per minute.
Specifications
Selecting heat detectors requires an analysis of product specifications.
Performance parameters include:
operating voltage or alarm current
standby current
sensitivity
weight
size
material of construction
operating temperature
humidity range
air velocity rating
spacing
Parameters for the mounting base include loop type (2-wire or 4-wire), alarm contact type, nominal voltage, and current draw on the alarm. Some heat detectors include a reversible mounting bracket for attachment to 3.5 in. or 4 in. octagonal, single gang, or square boxes. Wiring connections can be made with SEMS screws and 14–22 AWG wire. Typically, heat detectors contain alphanumeric markings on their housing that describe the temperature rating and activation method. Heat detectors may be listed by Underwriters Laboratories (UL) and approved by other independent testing laboratories or commercial insurance companies. For example, FM Approvals from FM Global may be given to fire detection, signaling, and other electrical equipment. FM Approvals is one of a relatively small number of laboratories that certifies flame detectors, spark detectors, heat detectors, and fire extinguishing equipment.
Related Information
CR4 Community—How to Identify the Heat Detector and Smoke Detector?
Engineering360—Smoke Detectors Information
Engineering360—Fire Alarm Control Panels Information