Environmental Exposure (Climatics) Testing Services Information
Environmental exposure (climatics) testing service providers simulate environmental conditions in order to test samples, parts, components, and finished products. Climatic variables such as humidity, pressure, temperature, vibration, and exposure to ultraviolet light (UV) are used to verify that test subjects meet or exceed benchmarks set forth by existing product and component standards. Durability and operating conditions are also defined and verified through climatics testing services.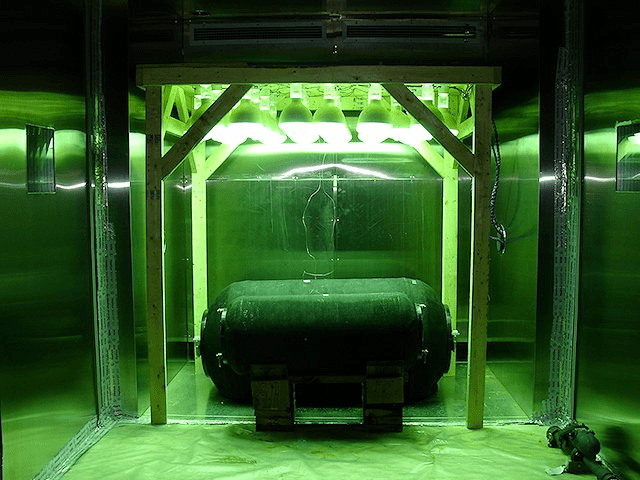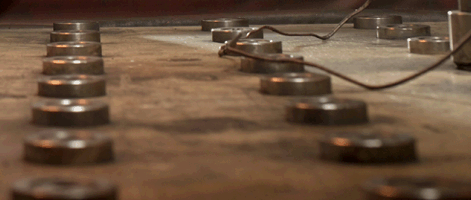 Image credit: E-Labs, Inc. | Element Materials Technology
Testing Chambers / Rooms
Test chambers and rooms offer a confined space with a controlled environment. They are used to ensure the reliability of industrial products, especially electronic items, through prolonged exposure to one or more environmental parameters. Climatics testing service providers may use one or several chambers or rooms that are each designed for a specific test.
EMC and environmental test engineering. Video credit: Harris Coporation / CC BY-SA 4.0
Companies differ in terms of testing capabilities, services offered, industries or applications served, certifications adhered to, and company accredited standards. Environmental exposure (climatics) testing services play an important role in product and component testing, a larger process which includes electrical, dynamic, ergonomic, and other specialized tests.
Testing Capabilities
Climatic testing capabilities include component and product testing, component and product comparison, certification, consulting and training, reliability or robustness testing, research and development (R&D), safety and liability testing, test development, engineering and design verification testing (DVT), qualification and commissioning, and evaluation and inspection.
Test Services Offered
Common environmental test services used to test products and components include altitude simulation, chemical analysis, corrosion inspection, erosion (blowing sand), flow or pressure testing, humidity testing, wind, rain, and ice testing, UV exposure, decompression or vacuum testing, electromagnetic compatibility (EMC) testing, radiation exposure, thermal cycling, and vibration or seismic testing.
Companies may also specialize in accelerated stress testing (AST) or loss of coolant accidents (LOCA).
Accelerated Stress Tests (AST)
Highly accelerated life testing (HALT) and highly accelerated stress screening (HASS) are accelerated stress tests that highlight defects, as well as define operating and failure limits.
Highly accelerated life testing (HALT) is a process developed to uncover design defects and weaknesses in electronic and mechanical assemblies using vibration testing, combined with rapid high and low temperature changes. This is done with an increased stress field, limiting the number of test cycles needed to produce product failure. HALT addresses reliability issues at an early stage in product development, offering significant advantages over traditional techniques. Limits obtained from HALT testing, through the use of higher climatic and mechanical stimuli, provide an operational range, operating limits, and failure or destructive limits. The results from HALT testing are used to set test limits for production screening or HASS tests.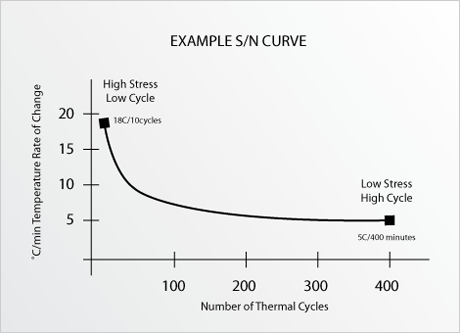 Image credit: Qualmark
Highly accelerated stress screening (HASS) or stress screening uses vibration, or dynamic and thermal stress limits to quickly verify the suitability of production products or components. Testing of the product or component's performance near operation and failure limits provides a failure mode distribution. This distribution highlights product or component inefficiencies.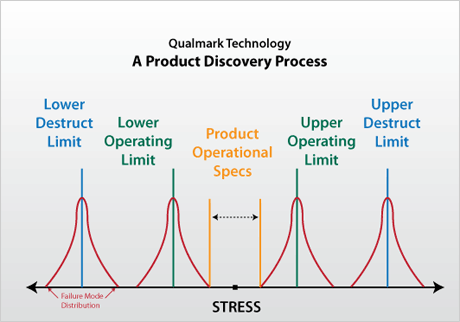 Image Credit: Qualmark
Loss of coolant accidents (LOCA)
Simulation of accidents is essential in providing a reliable system that will effectively operate when critical conditions are experienced in nuclear power plants during loss of coolant accidents (LOCA). In order to simulate the extreme conditions of a loss of coolant accident a LOCA chamber is used. Elevated pressures and high temperature steam are sustained while components function in order to safely shut down the plant or isolate the rupture.

Image credit: AZZ Incorporated
Industries / Applications
Environmental exposure (climatics) testing services may specialize in space and avionics equipment, appliances, automotive parts, building products, commercial food equipment, consumer electronics, fasteners, food and drugs, electrical distribution products, combustion equipment, hazardous location equipment, or health care and medical equipment. Environmental exposure (climatics) testing services may also test HVAC equipment, illuminators and lighting products, industrial equipment and machinery, instrument sensors, IT and telecommunications equipment, laboratory equipment, latex products, marine equipment, motors, motor controllers and control systems, packaging products, plumbing products, RF and wireless products, rubber products, semiconductors, and IC packages, and transportation and carrier safety management products.
Product Certifications
Providers of environmental exposure (climatics) testing services offer a variety of certifications. These include but are not limited to CE Mark (Europe), CSA (Canada) FCC (US), VCCI (Japan), DENAN (Japan), TUV-GS (Germany), EZU (Czechoslovakia), RLL (Korea), PCBC (Poland), C-TICK (Australia), PSB (Singapore), IRAM (Argentina), NOM (Mexico), SABS (South Africa), GOST (Russia), T Mark (Taiwan), and BSMI (Taiwan).
Company Standards
Environmental exposure (climatics) testing services with facility accreditations may be certified or qualified to meet the requirements of ISO 7779, ISO 9000, ISO 13485, ISO 14000, ISO 17025, ISO / TS 16949, QS 9000, TE supplement, and TL 9000.
Resources:
Fundamentals of Climatics Testing