Valve Repair Services Information
Valve repair services repair and rebuild used valves. Some repair services specialize in the repair and rebuilding of many different types of used valves, but they may also work exclusively with specialized, proprietary or patented products.
Repair Services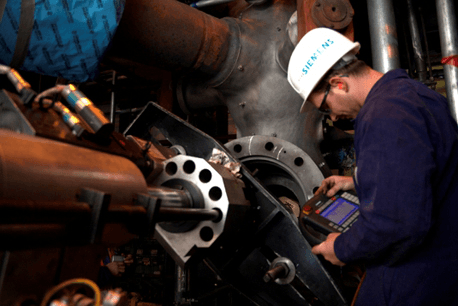 Blast cleaning and degreasing operations are often done to remove soils and contaminates that interfere with operation or performance of equipment.
Corrosion-resistant and anti-wear coatings applications protect the material against degradation due to moisture, salt spray, oxidation or exposure to environmental or industrial chemicals.
Non-destructive evaluation (NDE) test and inspections evaluate the properties of a material without causing damage. Common NDE methods include ultrasonic, liquid penetrate, and radiographic.
Full-dimensional inspections and report production is done before production begins. A prototype or material sample is analyzed for defects before it is sent to manufacturing.
Reverse engineering and parts remanufacturing renews worn parts back to new. Reverse engineering inspects the components of a part in order to recreate a part that may no longer be in production or needs to be repaired. Part remanufacturing disassembles worn parts and thoroughly cleans and inspects each element to identify and correct original design weaknesses.
Welding
Valve welding operations are also available. Welding is used to repair cracks and defects, and join a valve with the rest of the system.
Metal inert gas (MIG) welding is a process that includes an electric arc formed between a consumable wire electrode and the workpiece. The wire electrode heats the workpiece until they melt and the two pieces can be joined. This method is quick and requires the least user skill, however it produces a large bead and the filler is not easily regulated by the user.
Tungsten inert gas (TIG) welding is a process that includes an electric arc formed between a tungsten electrode and the workpiece. The electrode is non-consumable and can be maintained at a precise point. This method has a high level of precision and produces the highest weld quality. The user can easily regulate the heat generated as well as how much filler is used. A high level of manual dexterity is required and a smaller bead requires surfaces to be very carefully cut and fitted together.
Related repair techniques include plasma cutting, machine tooling and fixturing, and field laser alignment.
Additional Services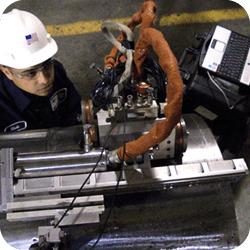 When selecting a valve repair service it is important to choose a repair service company that meets the full order requirement. For large valves that cannot be transported, that would include on-site repair. For valves used in critical system functions, rapid turnaround is important.
Bench (Off-site) - Bench repair refers to off-site equipment or instrument repair in the service supplier's shop. The test equipment or instruments need to be disconnected and transported to or picked up by the repair shop.
Field (on-site) - Supplier has personnel and/or equipment for on-site repair work, eliminating the added expense of taking the instrument off line and shipping it.
Online documentation - Supplier has online documentation system to access history, calibration certifications and recalibration notifications.
OEM or warranty authorized shop - Supplier has personnel and/or equipment that are certified or approved for OEM or warranty repair work.
Pick-up and delivery - Supplier offers pick-up and delivery services to minimize cost and time associated with using in-house personnel.
Preventative maintenance and service contracts - Preventative maintenance and services contracts refer to programs for performing proactive maintenance in order to prevent system problems. This is contrasted to troubleshooting, diagnostic or corrective maintenance, which is performed to correct an already existing problem.
Rapid turnaround - Supplier offers quick turnaround on repair services; typically in a few days.
Replacement or exchange program - Supplier has capabilities and resources for exchanging the damaged equipment or instrument with a new or used unit, which can minimize any downtime in the facility or eliminate the need to ship and outsource work.
Troubleshooting- Troubleshooting refers to diagnostic or corrective maintenance, which is performed to correct an already-existing problem. This is contrasted to preventive maintenance, which refers to performing proactive maintenance in order to prevent system problems.
Locations
Valve repair services are located across North America and around the world. When selecting a company to repair or service a valve, be sure to consider transportation and/or shipping costs for the valve or required parts.
Standards
Repair service companies must comply with regulatory requirements for valve repairs. There are also voluntary standards available to valve repair service companies.
See the Valve Standards page for more information.
Image Credits:
TEAM industries | Siemens
Read user Insights about Valve Repair Services