Ceramic Fabrication Services Information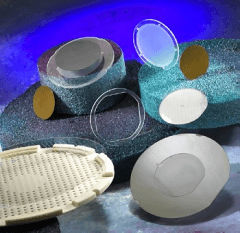 Ceramic fabrication services produce parts and assemblies made of ceramic or refractory materials for electrical, thermal, optical, wear and mechanical, or structural applications. In addition to applications and industries served, ceramic fabrication services differ in terms of capabilities and materials. Suppliers perform various primary and secondary applications, and differ in terms of capabilities and regions served.

Ceramic fabrication services vary in terms of capabilities. Examples include:
casting
cold isostatic pressing (CIP)
extrusion
grinding
gunning
hot isostatic pressing (HIP)
injection molding
machining
wet or dry pressing
roll compacting
Some ceramic fabrication services perform sintering or firing, toll processing, or specialty operations. Others specialize in cement, fusion, slip, or freeze (thixotropic) casting processes.
Specifications
Selecting ceramic fabrication services to produce cast parts requires an understanding of the different casting technologies. Cement casting involves refractory cement consisting of an aggregate bond together with a silicate or aluminate clinker that sets after casting. With fusion casting, using a fusion process where the ceramic is actually melted, poured into a mold or form, and solidified. In slip casting, slurry is formed by suspending ceramic particles in a liquid with a defloculant. Ceramic fabrication services that perform thixotropic casting use a mixture of ceramic particles and a binder that are cast into a mold and then frozen.
Primary and secondary operations are important to consider when selecting ceramic fabrication services. In addition to ceramic part fabrication, companies may offer bonding or assembly, design assistance, installation, materials development or research and development (R&D), material selection, reverse engineering, and testing and inspection services. Secondary operations from ceramic fabrication services may include brazing, glazing or coating, hermetic sealing, infiltration, lapping or polishing, and metallizing.
Materials
Ceramic fabrication services process a variety of different ceramic and refractory materials. These include alumina, carbon or graphite, glass ceramic, metal boride, metal carbide, mullite, nitride, porcelain, sapphire, silicate or fused silica, silicide, and silicon carbide. Other materials include silicon nitride, zirconia, composites, fibrous ceramics and porous ceramics. Ceramic fabrication services that work with specialty or proprietary materials are also available.
Applications
Ceramic fabrication services serve many different industries and applications. These include chemical processing, electrical or high voltage (HV) work, products for electronics or radio frequency (RF) applications, and metal processing. Ceramic fabrication services may also process optical components such as lenses, windows, prisms, and optical fibers; heat resistant parts for boilers and furnaces; and structural components.
Related Information
Engineering360—NASA Funds Solid-State Battery Research
Engineering360—Resin Permits 3D Printing on High-Strength Ceramics
Image credit: