Screw Machine Shops Information
Image Credit: Vallorbs Jewel Company | CM International Industries | Seward Screw Products, Inc.
Screw machine shops manufacture screws and other turned or threaded parts from metals, plastics, and composite materials. They typically specialize in high-volume and low-cost manufacturing.Their services are used when a client needs to manufacture a part but does not have the equipment necessary for cost-effective in-house production.
Screw Machines
Screw machines are automatic lathes used for small- to medium- sized parts. In these machines, the stock is fed through the bore of a spindle. Cutting bits are held by cross slides which move across the spindle to cut the work piece. The on-axis image below illustrates how the cuts are made.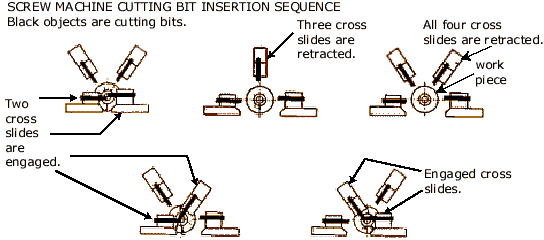 Image Credit: eFunda, Inc.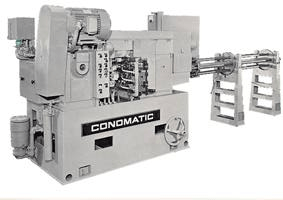 Screw machines are classified based on the number of spindles they have. Multi-spindle screw machines, which come in 4, 5, 6, or 8 spindle models, allow multiple parts to be cut simultaneously. With the use of computer numeric control (CNC), screw machines have the ability to produce higher volumes of complex parts with repeatability and accuracy.
Multi-spindle screw machine. Image Credit: Conomatic
These videos show single and multi-spindle screw machines in operation:
Single spindle screw machine. Credit: Youtube-(unabiker263) / CC BY 3.0
| Multi-spindle screw machine. Credit: JEM Automatics / CC BY 3.0
Materials
Screw machines shops typically indicate what types of materials they specialize in and are capable of machining. Some materials commonly machined by screw machines include:
Aluminum

Brass

Bronze

Copper

Nickel and nickel alloys

Stainless steel

Steel and steel alloys

Titanium
Service Capabilities
Screw machine shops may offer a number of additional capabilities that correspond to the machining services they provide.
CAD / CAM support - Since most screw machines are automated by computer numeric control (CNC), service companies often have the ability to take computer-model design files electronically and use them for part creation. Clients should consult the suppliers for details on the computer aided design (CAD) and computer aided manufacturing (CAM) software they use and support.

Design assistance - The supplier may offer assistance with concepts, manufacturing costs, manufacturing techniques, and material considerations. Suppliers may also be able to assist in upgrading or redesigning, re-evaluating or modernizing existing products to increase performance and/or reduce manufacturing costs.

Prototype services - Shops may provide services for building small quantities of representative parts for use in presentations and functional testing.

Low volume production - Shops may specify that they offer low volume production, meaning they can cost-effectively produce low quantities of parts for their clients.

High volume production - Shops may specify that they are capable of high volume production, meaning they are able to produce large quantities of parts in a reasonable time.

Reverse engineering - Some screw machine shops can offer reverse-engineering of parts in order to provide part replication or duplication services.
Other Considerations
The costs associated with a screw machine shop's services, along with the shop's location, are important to consider in the selection process.
Cost
The service cost is important to consider in any application. Quotes (cost estimates) for part manufacturing orders are given to the customer after he or she provides the shop with the part specifications or a description of the requirements. Cost typically correlates to the time spent producing the product and the expense of the materials used (when purchased by the service company). Additional costs include transportation or shipment costs of the parts once they have been made.
Location
The location of the shop is important to consider both for logistical reasons and expenses. Operations located farther away from the customer will have higher associated shipping costs, especially for large production volumes. In addition, there may be additional logistical complications when dealing with suppliers from different countries.
References