Standards and Technical Documents Information
Standards and technical documents are records regarding the usage, function, composition, and testing of specialized products or components. This documentation often includes manufacturer data sheets; regulations, specifications, testing methods, and manufacturing expectations as composed by standard-setting organizations such as ASME, ASTM, ANSI, IEEE, ISO, and CEN; as well as technical policies enforced by government agencies. The object of these documents is to provide the reader with prose-based explanatory guidelines for producing, manufacturing, or operating products within industrial and commercial environments.
Business Benefits of Standards and Standardization
Standards and the standardization process have an enormous impact on many aspects of business and trade. An OEM's product design, supply chain, manufacturing, distribution, services and marketing all benefit from standardization. The U.S. Department of Defense projected $789 million in cost avoidance through one program on parts standardization and process standardization. The U.S. Department of Commerce estimates that standards, technical regulations and conformity assessment impact at least 80% of global commodity trade.
"Today, more than ever, standards are an imperative undertaking. Standards are the building blocks for innovation and competitiveness. Our nation's ability to compete and lead in a rapidly changing global economy is closely related to our leadership in the development and effective use of standards and standardization processes. Standards provide the common language that keeps domestic and international trade flowing. It is difficult to overestimate their critical value to both the U.S. and global economy." (Patrick Gallagher, Director of NIST, 2010)
Video credit: NIST
Standards development and usage needs to be an integral part of a manufacturer's strategy because "If you control an industry's standards, you control that industry lock, stock, and ledger." (Out of the Crisis, by W. E. Deming, Center for Advanced Engineering Study, MIT Press, 1986) Standards continue to play a strategic critical role in business as globalization continues to open and expand markets and dominate business activities. Most major industrial economies have developed strategies to promote and leverage the benefits of standards.
The United States Standards Strategy recognizes globalization and the need for voluntary standards designed to meet stakeholder needs irrespective of national borders. These standards are developed through the traditional strengths of the U.S. system — such as consensus, openness, and transparency. Voluntary consensus standards are at the foundation of the U.S. economy. The U.S. standards system promotes the public good, enhances the competitiveness of U.S. industry, and contributes to a liberalized global trading system.
According to the German Standardization Strategy, standards help business and society strengthen, develop and open up regional and global markets. Standards protect consumers by ensuring product safety, reliability, compatibility, interchangeability, authenticity and sustainability according to Canadian Standards Strategy. Standards can also be a powerful source of competitive economic intelligence and a key tool in the development and evaluation of new technologies.

Successful manufacturers recognize that standards and conformance are business tools that must be utilized and managed right alongside their quality, safety, intellectual property, and environmental policies. In addition, standardization and conformity assessment activities lead to lower costs by reducing redundancy, minimizing errors, and reducing time to market.
Standards and standardization allow a business or manufacturer to:
Reduce the costs of materials, time and human resources
Reduce errors, risk and liability costs
Improve product quality, safety and consistency
Aid in reduction of counterfeit products
Reduce redundancy and adaptation costs through product modifications or interface adjustments
Provide cross border interoperability - ensuring that products manufactured in one country can be sold and used in another
Increase productivity through the optimization of material flows and operational processes
Lower transaction costs due to better communication and faster access to information
Access simplified, internationally recognized measurement, testing and certification procedures
Reduce time to market and access to markets – especially foreign or international markets by demonstrating compliance to standards
Improve factory flexibility, production efficiencies and supply chain management
Reduce risk and cost of research & development effort on new technologies by relying on previously standardized technologies and terminologies
Provide competitive advantage over and challenge to producers not meeting standards
Implement the best quality, safety, environmental and sustainability management practices
Standards – The Powerful Language of Engineering
While articles abound on the benefits of standards on reducing trade barriers, improving access to markets and other business or economics issues. As an engineer, how do standards improve, challenge or impact day to day engineering tasks such as product design?
Standards are an important part of the language of engineering and provide engineers a type of shorthand for referencing and searching for engineering components, product features, and qualified raw materials quickly and accurately. In addition, engineers use standards and codes to specify tests, plan inspections, understand regulatory requirements, maintain process safety, reverse engineer competitive technologies, and design in product safety, sustainability and/or accessibility.
Standards, codes and specifications are powerful tools for engineers because they pack a lot of information in a small package based on industry agreed on conventions. For instance, rather than listing details about composition and processing to specify a stainless steel alloy with pitting corrosion resistance and good weldability, the engineer can just reference a material specification such as AISI/SAE 316L or UNS S316003, which is an 18% Chromium - 8% Nickel austenitic stainless steel with low carbon levels to prevent grain boundary chromium depletion during welding and molybdenum additions to enhance pitting resistance. The details of a fastener's screw thread dimensions, nominal size range, alloy materials, proof load, yield strength and tensile strength limits do have to be documented individually, rather just the appropriate SAE, ASTM, ISO or other fastener standard.
Engineers are more mobile in industry today and often move from company to company. Standards provide an industry agreed upon presentation of the latest accepted technologies, procedures, materials and methods for new engineers or engineers new to the industry. Engineers need to understand the current body of standards that apply to their field and stay up to date on the latest standards. Engineers, technicians and other technical personnel should thoroughly review the technical details of the standards applicable to their engineering field to grasp how they impact their employer's products, services, and bottom line. The engineers or engineering department in an organization should have ready access to a management system or digital reference library of pertinent standards, codes, regulations and specifications, which pertain to their industry engineering activities and are updated periodically. Educating new engineers on engineering nomenclature and technical standards is an important step in assuring the viability of an engineering department or product development group.
Standards in the Product Design Process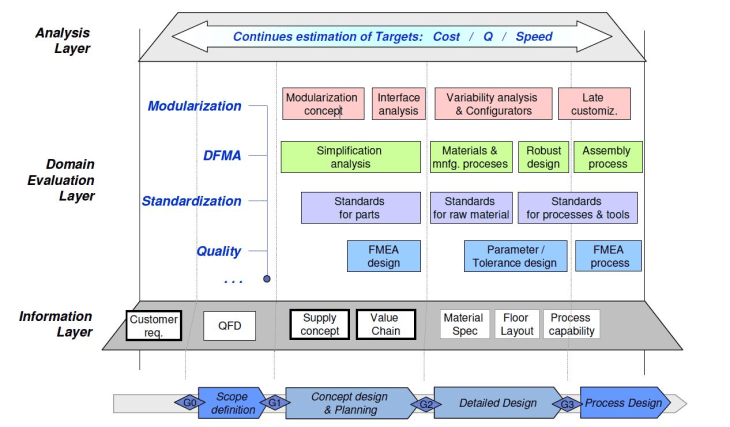 Image credit: "Dfx Platform - a Holistic Approach to Design Concepts Evaluation"; Malinowski, L., Tomasz, N.
Standardization is an integral part of the design process. During the product design process, engineers must comply to standards as well as select standards for parts, materials, testing, inspection, parts kitting or assembly, processes, quality management, documentation, environmental, manufacturing tools, product safety, product sustainability and recycling, product accessibility and inclusive, product quality, product ergonomics or usability and product performance. Utilizing a component conforming to a standard in a design helps the engineers assure the quality, safety, cost and manufacturability of the finished product. An engineer knows that fasteners made to certain standards will be consistent and interchangeable. Standardize parts or components enable mass production of the product. Standards save engineering time because an engineer can use existing designs or rules for specifying components. If the components based on standards do not work, then the engineer may need to design parts with unique characteristic (special material specification, thread configurations, etc.). However, the use of standardized parts is always the first choice from a cost, availability and manufacturability viewpoint.
Product designers or design engineers are not the only engineers involved with standards. Supply chain and production engineers need to review standards to find alternative or lower cost materials or components, which will still meet all the requirements of the standard and design. Quality engineers need standards to maintain the conformance of management systems and quality programs. An NDT engineer or inspector evaluating welds on an aircraft will An aerospace auditor will be required to know the prime contractors standards (e.g., Boeing, Lockheed, GE, etc.) as well as the applicable aerospace industry standards (ISO 9001, SAE AS9001). Environmental engineers should be up to speed on the latest EPA regulations to keep the plant operating within their facility's environmental permits while avoiding any unnecessary regulatory related expenses. Health and safety engineers must regularly review the latest OSHA regulations.
Many aspects of standards save engineers time and improve productivity. Meeting product, process or service standards can be a challenge for engineers. For instance, conforming to standards and codes while trying to meet a new product's design and performance requirements can be challenging for development engineers. Unfamiliar specifications referenced in a new design may seem like stumbling blocks to manufacturing engineers tasked with fabricating or assembling the new product.
Most products designed by engineers today are not simple assemblies rather complex systems using mechanical, electrical, electronic, fluid and material parts, assemblies and sub-systems. Expertise in mechanisms, fluids, electronics, materials, electrical systems and manufacturing are not typically found in a single engineer. Therefore, interdisciplinary engineering teams are required to concurrently design these complex product systems using a system engineering approach. Standards are critical because they allow the interdisciplinary teams to communicate and control the product development process.
The goal of product design cannot be performance alone. Products must perform safely, reliably and without failure. When engineers develop products, we build prototypes, test and analyze performance, investigate failures, optimize or redesign to eliminate failures and improve performance and then evaluate redesigns and repeat the design process. Case studies of failures are used to set new standards or revise existing standards to provide a greater level of public safety.
Preventing or reducing failures and ensuring end-user safety are critical aspects of engineering design. Henry Petroski, an accomplished engineering professor, outlined the importance of understanding failure and safety in design engineering in his classic "To Engineer is Human". Standards provide engineers with benchmarks of performance, safety, reliability, failure resistance, sustainability or other specifications to be met or exceeded during the design, development and test process.
Engineers utilize safety standards, performance standards, reliability standards, design standards, and other product standards during product design to prevent or reduce failures of products in during end-use. Using industry accepted, validated and standardized technology and methods reduces risks in product design over non-standard technology. No products or product design can be failure proof or foolproof. Even properly designed products and equipment have limitations and must be operated correctly and within their performance limits. Operating standards and process codes provide procedures, rules and guidelines to maintain safety and performance during the use of products and equipment.
General Standards Types
"Standards" can be an encompassing term for the technical guidelines or requirement documents that can be grouped into four broad types such as:
1. Standards or Norms: Standards are technical documents designed to be used as requirements, rules, guidelines or definitions. Standards are set by authorities, industry conventions or general consent and established as criteria by hundreds of Standards Developing Organizations (SDOs) including professional societies, trade associations, corporations, military and government agencies, and national and international standards bodies. Norms is the term used for standards in Germany. Norme is used in France. Standards are known as EuroNorms (EN) across Europe. Standards specify common or repeatedly used of rules, conditions, guidelines or characteristics for products or related processes and production methods, and related management system practices.
Standards can also consist of:
definition of terms
classifications of components
delineation of procedures
specification of dimensions, materials, processes, products, systems, services or practices
test methods and sampling procedures
descriptions of fit and measurements of size or strength
Engineers leverage these standards to communicate details of their designs in a compact and accepted format to other engineers, technicians, production staff, manufacturing personnel, auditors, toll processors, engineering component vendors, and subcontractors.
2. Regulations or Regulatory Standards: Regulations are rules, statutory requirements or laws of government agencies such as the National or Federal government, local or regional government (County, City, State or Province) and International Treaty Organizations (NATO, EU). Local building codes or state environmental regulations are examples of local or regional regulations. Code of Federal Regulations (CFR) codifies the final rules published in the Federal Register by the executive departments and agencies of the Federal Government. The CFR is divided into 50 titles that represent broad areas under Federal regulation. Each volume of the CFR is updated once each calendar year. The Federal Register (FR) is published by the Office of the Federal Register, National Archives and Records Administration (NARA) and is the official daily publication for rules, proposed rules, executive orders and Federal organization notices. The Regulatory Information Service Center website assists users in finding information about Federal, State, and local regulation.
Federal agencies or groups in the U.S. issuing regulations include Consumer Product Safety Commission (PSC), Environmental Protection Agency (EPA), Federal Aviation Administration (FAA), Federal Drug Administration (FDA, National Highway Traffic Safety Administration (NHTSA), and Occupational Safety and Health Administration (OSHA). Unlike standards or codes, regulations are mandated and they must be conformed to by individuals, companies, laboratories, and manufacturers or OEMs within the jurisdiction of the regulating authority. Engineer designing products for European market must comply with EuroNorm (EN) standards.
Almost 10,000 standards and codes from over 300 standards developing organizations are referenced in Federal regulations. The Standards Incorporated by Reference (SIBR) database details how regulations, voluntary standards & codes and conformity assessment standards are referenced in Federal regulations. The table below list the Standards Developing Organizations ranked by the number of standards referenced in Federal regulations.
Top Ten Regulatory SDOs by Number of Standards Referenced in Code of Federal Regulation (CFR)

Standard Developing Organization (SDO)

Acronym

SDO URL

Count

American Society for Testing and Materials

ASTM

www.astm.org

2260

American National Standards Institute

ANSI

www.ansi.org

568

American Society of Mechanical Engineers

ASME

www.asme.org

554

U.S. Environmental Protection Agency

EPA

www.epa.gov

472

Society of Automotive Engineers

SAE

www.sae.org

436

National Fire Protection Association

NFPA

www.nfpa.org

379

American Petroleum Institute

API

www.api.org

280

Insulated Cable Engineers Association

ICEA

www.icea.net

274

AOAC International

AOAC

www.aoac.org

246

International Maritime Organization

IMO

www.imo.org

237
3. Codes: Codes or standards recognized as codes are sets of rules, minimum specifications and guidelines for design, developed by a designated governmental and/or professional group (SDO), which are intended to protect public safety, health and welfare. While national codes are typically voluntary standards, they are typically incorporated into or referenced in mandatory regulations or local building codes, which specify minimum construction requirements to protect public safety and health. Codes often consist of an extensive set of rules and specifications for processes, services, fabrication, manufacturing and/or construction such as American Society of Welding (AWS) Codes - welding process or welding fabrication codes, National Electrical Code - electrical wiring codes, 2017 ASME BPVC – Boiler and Pressure Vessel Codes – boiler or pressure vessel fabrication, installation and inspection codes, NFPA National Fire Codes – fire prevention codes or International Code Council (ICC) - safety and fire prevention building codes.
While some codes appear to be voluntary, they are often referenced in local building codes or regulations, which are mandatory laws
4. Specifications: Specifications or specs are standards documents outlining a explicit or specific set of requirement to be satisfied by the material, design, product or service. "Out of spec" materials do not meet the technical specification and cannot be used in the product manufacturing or construction project. Specifications are used on engineering drawings, bill of materials and other design documents to assure products are made correctly according to the design artifacts.
Image credits:
ASME | ESDU