From
Fiber Optic Essentials
In WDM systems a number of wavelength channels carry independent signals through
the optical fiber. Thus, there is a need to multiplex and demultiplex a number of
wavelengths, and arrrayed waveguide gratings are devices that can perform this
operation very efficiently with low losses. AWGs capable of multiplexing up to 1080
channels with 25-GHz spacing have also been demonstrated. The AWG is a planar
device (usually fabricated on a silicon substrate) and consists of a series of input
waveguides connected to a planar waveguide that is coupled to an arrayed waveguide
structure as shown in Fig. 12.13. The arrayed waveguides are then connected to a
series of output waveguides via another planar waveguide. The adjacent waveguides
of the arrayed waveguide system differ in length by fixed amounts. Light at different
wavelengths input into one of the input waveguides gets diffracted in the planar
waveguide and gets coupled to the waveguides of the arrayed waveguide structure.
Since the individual waveguides of the arrayed waveguide structure are of different
lengths when the light waves arrive at the second planar waveguide, they interfere
such that different wavelengths get focused at different points and subsequently get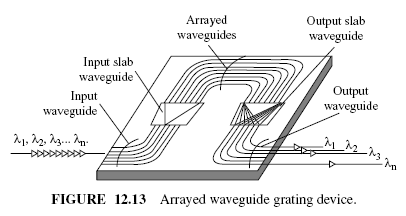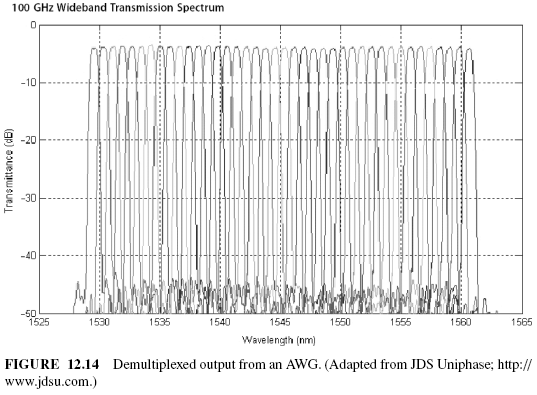 coupled to different output waveguides. Thus, the various wavelengths that were
coupled into a single input waveguide get demultiplexed and exit from different
outputs. If this device operates in reverse, it will act as a multiplexer.

Figure 12.14 shows the demultiplexed output from different waveguides of an
AWG; the channels are spaced by as little as 50 GHz (corresponding to a wavelength
spacing of 0.4 nm). The insertion loss of the device is typically less than 5 dB, the
wavelength accuracy is typically better than 0.02 nm, and the bandwidth is about
0.2 nm.
© 2007
---
Products & Services
---
Topics of Interest