From
Global Positioning Systems, Inertial Navigation, and Integration
9.1.2 Early Accelerometers
Pendulum clocks were used in the eighteen century for measuring the acceleration due to gravity, but these devices were not usable on moving platforms.
9.1.2.1 Drag Cup Accelerometer An early "integrating" accelerometer design is illustrated in Fig. 9.4. It has two independent moving parts, both able to rotate on a common shaft axis:
A bar magnetic, the rotation rate of which is controlled by a dc motor.
A nonferrous metal "drag cup" that will be dragged along by the currents
induced in the metal by the moving magnetic field, producing a torque on
the drag cup that is proportional to the magnet rotation rate. The drag cup
also has a proof mass attached to one point, so that acceleration along the
"input axis" direction shown in the illustration will also create a torque on
the drag cup.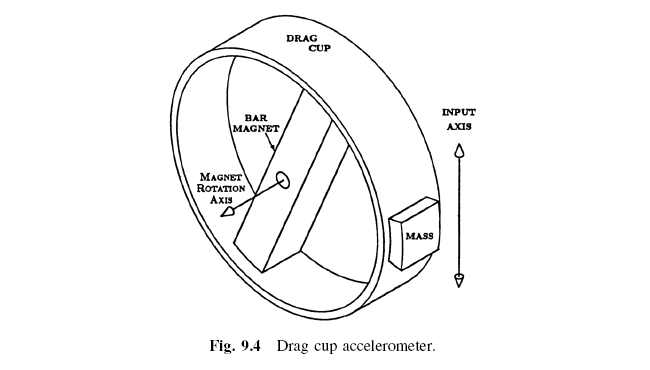 The DC current to the motor is servoed to keep the drag cup from rotating, so that the magnet rotation rate will be proportional to acceleration and each rotation of the magnet will be proportional to the resulting velocity increment over that time period. At very low input accelerations (e.g., during gimbaled IMU leveling), inhomogeneities in the drag cup material...
More >>
Show More...
© 2007
---
Products & Services
---
Topics of Interest