From
A Practical Approach to Motor Vehicle Engineering and Maintenance, Second Edition
1.9

Valve-timing diagrams

The valve timing of an engine is set to give the best possible performance. This means that the valves must be opened and closed at very precise times. The traditional way of showing exactly when the valve opens and closes is by the use of a valve-timing diagram (Fig. 1.14). As can be seen the valves are opened and closed in relation to the number of degrees of movement of the crankshaft. When comparing the diagrams for the petrol engine of medium and high performance cars, it will be noticed that the high performance car has larger valve opening periods, especially the closing of the inlet valve which is later. This is so that at high operating speeds the increased lag allows as much pressure energy as possible to be generated in the cylinder by the incoming air and fuel charge, prior to its further compression by the rising piston. There is also an increase in the value of valve overlap for the high performance engine. This means that at TDC both inlet and exhaust valves will be open together for a longer period of time giving a better breathing of the engine at these higher engine speeds (Fig. 1.15).
Figure 1.14:

Valve-timing diagrams (a) medium-performance engine, (b) high-performance engine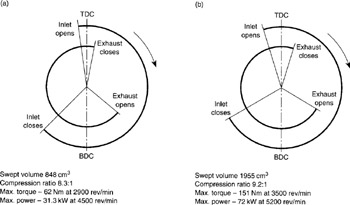 Figure 1.15:

Valve-timing diagrams (a) four-cylinder OHV engine, (b) four-cylinder OHC engine
In the two-stroke petrol engine port timing is the equivalent to valve timing. It must take into account the time lapse before the ports are...
Copyright Derek Newbold and Allan Bonnick 2005 under license agreement with Books24x7
---
Products & Services
---
Topics of Interest