Tubing for Wind Turbines and More
Featured Product from Altech Corp.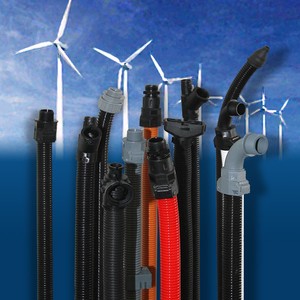 Altech tubing is used in many wind turbines throughout the world. Protect your cables with corrugated tubes. Made from flame retardant Polyamide 6, these tubes will protect cables from impact and abrasion. They are highly flexible and have a high fatigue life, making them ideal for any installation. 18 sizes are available in standard tube or with a lateral slit. Add straight or 90° connectors with seals to complete the installation.
Material: Polyamide
Flame retardant according to DIN 75200 and UL
No halogen
Durable
Temperature Range: -40 to 120°C, short term 150°C
Inner Dimensions: 2.8mm up to 47.7mm
Accessories:
Connectors
Seal Rings, O-Rings
Mounting Clips