Precision (0.00035") AuSn Preforms
Featured Product from Indium Corporation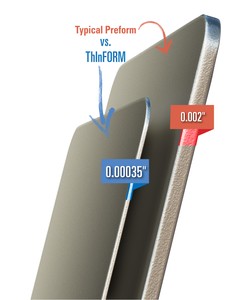 Indium Corporation now offers precision AuSn preforms—AuLTRA® ThInFORMS™—for die-attach applications
Indium Corporation's AuLTRA® ThInFORMS™ are a 0.00035" (0.00889mm) thin 80Au20Sn preform for die-attach applications. They reduce solder volume, solder wicking, and voiding thereby improving thermal transfer and the overall operational efficiency of the package.
For more information about Indium Corporation's precision gold products visit www.indium.com/gold.
Indium Corporation also offers Pb-free and RoHS-compliant AuSn solder preforms available in a variety of standard and custom-engineered designs. The Gold Preform Quick Turn Program offers engineering support from design to production and a quick turnaround for new design, tool, or prototype quantities.
Learn more about the properties and benefits of AuSn
E mail us via the links on this page with any questions