Next Generation Diaphragm Pumps
Featured Product from KNF Neuberger, Inc.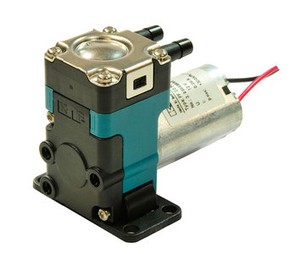 FF SERIES DIAPHRAGM LIQUID TRANSFER PUMPS
KNF FF 12, and FF 20 -- two new OEM diaphragm pumps to aspirate, transfer, or pressurize liquids and liquid/gas mixtures.These advanced pumps are linearly-adjustable to 230 mL/min, generate pressure up to 44 psig, and self-prime to 10.5 inHg. With a service life to 20,000+ hours, the FF series diaphragm pumps are built to last.
The FF pump platform is underpinned by KNF's unique modular design concept which allows numerous customer-specific modifications, and applications-specific performance. Optimize for applications in medical device/diagnostics, reprographics, laboratory equipment, energy, cosmetics, cleaning/ disinfection, and more. Between the two model types, KNF's FF series diaphragm liquid pumps cover a wide variety of operation
FEATURES & BENEFITS:
Equipped with high-quality brushless DC motors, the pumps require no maintenance and have a service life of 20,000h or more. Models with brush-commutated DC motors are available for customer applications that do not require such a long service life. A wide range of wetted materials are available, and the welded head parts ensure a high level of leak tightness, even with very volatile media.
Modular platform design allows customer-specific modifications
Wide flow rate adjustment range
Mounting plate with click-on mechanism for efficient installation and removal of the pump
High level of leak tightness, thanks to laser welded head parts, even with volatile media
Self-priming and safe to run dry lead to reliable operation
Clean and gentle transfer of sensitive media
Wide range of wetted materials to handle neutral to aggressive liquids
Expected service life of up to 20,000 hours with no maintenance