Versatile Mechanical Vacuum Diaphragm Pump
Featured Product from KNF Neuberger, Inc.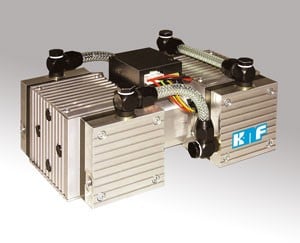 The complete pump, motor, and control require only a simple connection to the normal 2-wire DC power for operation. The BLDC controller design includes an available "on-demand" control feature to enable nearly seamless integration into the larger vacuum system. The highly efficient BLDC motors provide the ability to dramatically reduce the size of the pump-motor package, lower power usage, and significantly reduce heat radiation. This exciting technology is available in a range of KNF pump sizes from the compact 5 liter/minute through the 30 liter/minute pump models with end-vacuums to less than 0.5 mbar available in 4-stage models. Higher performance and chemical resistance versions are also available. These new BLDC pumps powerfully compliment the industry-leading range of world-class KNF diaphragm pumps now serving the vacuum industry worldwide. These pumps are ideal for backing turbo pumps in corrosive gas RGA, MALDI-TOF, HPLC-MS, or any time your application demands a quiet, oil-free rough vacuum pump.