Customized Draw-wire sensors for displacement
Featured Product from Micro-Epsilon Group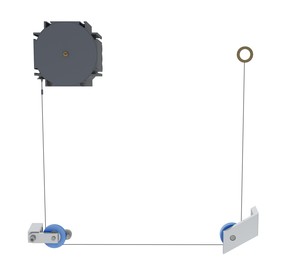 Customized Draw-wire sensors for displacement, position and length
Despite the range of wireSENSOR models available, application-specific modifications to the sensor are often required to suit a specific application. For high volume production, Micro-Epsilon can modify the sensor according to customer requirements. Modifications are often made to the length and design of the measuring wire, the tensioning force of the spring package or different output types.
Overview of customer-specific modifications
measuring range
sensor housing
type of wire material
wire discharge
Example for a custom wireSENSOR:
The WDS-70-F50 draw-wire sensor is quite unique in the wireSENSORs family. It is the only draw-wire sensor in which the wire discharge can be varied between 0° and 90° using an integrated deflection roller.
Even more novel is the sensor's adjustable measuring range of between 70mm and 150mm wire length, achieved by using rotary potentiometers. The wire can be attached to the target and pre-tensioned in this way. The signal deviation achieved using pre-tension is reset to zero by rotating the potentiometer and so the signal deviation always completely peaks above the 70mm. The sensor therefore offers maximum resolution. The measuring range within the 150mm wire length is freely selectable. For example, the F50 is used in passenger vehicles for measuring clutch pedal travel. Wire extensions cannot be used in this position. The pedal movement also requires a larger exit angle of the wire than would be permitted by conventional draw-wire sensors.