Customized Laser Triangulation Sensors
Featured Product from Micro-Epsilon Group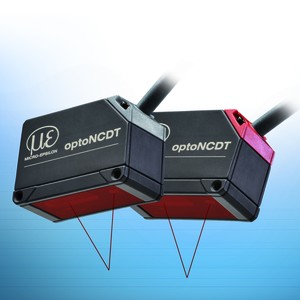 Micro-Epsilon Customized Sensors
Sensors can be adapted in many different ways to suit customer-specific applications. Particularly in the case of high volume orders up to 100,000 pieces, Micro-Epsilon can produce customized sensors efficiently, which results in considerable cost reductions. Micro-Epsilon offers custom manufacturing for a wide range of sensor types:
Customized Laser Triangulation Sensors: Non-contact displacement and position sensors
optoNCDT laser sensors are setting milestones for industrial laser displacement measurement. Micro-Epsilon laser sensors stand out due to size, measuring rate, software and, above all, due to precision. The current optoNCDT range now offers numerous series, each of which is amongst the best in its class.
Often, special requirements cannot be standardized. For this reason, we configure our sensors to your individual requirements. Changes in the base distance or measuring range, cable and connector variants and modifications to the housing and optical system are often required.
Examples of customized design options:
Non-standard measuring range and stand off
Custom housing or mounting geometry
Non-standard signal interfaces
Special cable length of electrical connector
90° beam deflection
Vacuum suitability
Reduced mass
Increased shock and vibration resistance