Rubber O-ring Seals - O-rings
Featured Product from Precision Polymer Engineering Ltd.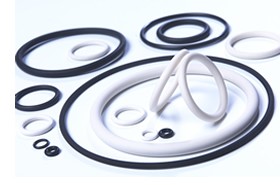 PPE manufactures and supplies fully molded and CNC machined elastomer O-rings from 1.5mm (0.06") to 2.5 metres (8ft) outer diameter and 0.8mm (0.03") to 12mm (0.47") cross section. All of the rubber O-rings we manufacture are available in both small quantities and large volumes.
Standard and non-standard O-ring sizes
We hold a comprehensive range of standard O-ring molds to BS1806, BS4518, AS568 and ISO3601. For non-standard O-ring seals we can produce bespoke tooling very quickly (92% of O-ring tools are produced same day) providing cost effective solutions and a responsive service.
High performance materials
With an unrivaled range of elastomer materials available, PPE has an elastomer for every application, with performance characteristics that meet high temperature, high pressure and aggressive chemical applications.
See a list of O-ring materials available from PPE.
Food/medical grade O-rings
For O-rings used in food, dairy and pharmaceutical applications PPE offers a variety of elastomer material grades compliant with many international requirements such as FDA, USP Class VI, WRAS, KTW and 3-A in addition to metal detectable O-rings, all of which are free from Animal Derived Ingredients.
Preformed 'shaped' rubber O-rings are used to assist assembly and prevent unnecessary stresses being placed upon the seals. Such rubber O-rings are often used for rectangular path door seals or to navigate around pipe-work. By removing permanent stresses from the O-ring, PPE preformed O-rings can extend the life of the part in your application.
Large Diameter O-rings - PPE offers the largest fully molded, formed elastomer O-rings manufactured on a single tool, in one pressing operation.