Custom Opposed Ram Compaction Press
Featured Product from Savage Engineering, Inc.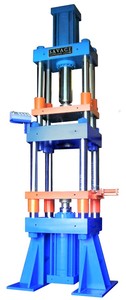 Savage has experience with the compaction of materials including metal powders, graphite, ceramics, boron nitride, carbide, PBX, titanium and titanium sponge, molybdenum, and Teflon. The uniform force of opposed rams creates the ability to compact nearly any loose material.
At Savage Engineering, we customize every Opposed Ram Press to meet our customers' requirements. Based on your application, we provide customized:
Bed size
Stroke lengths
Daylight opening
Shut height
Speeds
Special options and tooling
For nearly 60 years, Savage Engineering has been designing and building high quality, durable custom hydraulic presses to meet each customer's unique needs and exact job specifications. Our process is fully integrated from concept to delivery. You'll receive onsite installation, training, and technical support throughout the operating life of your press.
Contact Us Today to Discuss Your Application! (216) 587-2885