Powder Compaction Press
Featured Product from Savage Engineering, Inc.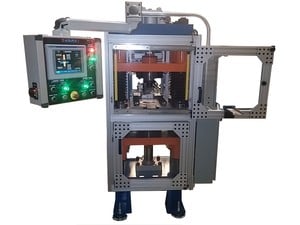 Savage Powder Compaction and Briquetting applications include vertical upacting or downacting compaction for loose fill, bulk materials, and powders.
Savage's Powder Compaction Presses are available with hoppers, fill shoes, ejectors, shuttles, conveyors, and with volumetric or loss-in-weight feeders. Three piece powder dies are available with floating or fixed cavity, punches, and stripper.
Materials include friction materials, metal powders, graphite, carbon, ceramics, boron nitride, carbide, pyrotechnics, explosives, titanium sponge, titanium dioxide, molybdenum, bulk materials, free-flowing materials, etc. Our hydraulic presses are designed per application to meet your exact requirements.
50 to 2000 ton capacity
Rugged straight sideor 4 post design.
Hydraulic ejector
Hopper and sliding fill shoe feeder
Fluidized fill shoe
Fully automatic cycle with ejection
Stroke, daylight, speeds, and bed sizes to your requirements
Made in USA
Features opposed rams with fixed center tool holder. Allows compaction from both ends toward center for improved density throughout. Remote operation for explosive powders.
More information about this product is available on Savage Engineering's website.