Powder and Explosives Compaction Presses
Featured Product from Savage Engineering, Inc.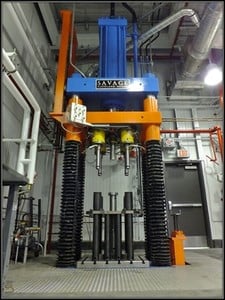 Powder & Explosives Compaction Presses Powder and Explosives Compaction Presses
Savage Powder Compaction Presses are designed for compacting explosive powders, bulk materials, friction materials, free flowing materials, metal powders, titanium sponge, carbon, graphite, boron nitride, etc. We offer single or opposed compacting rams, ejectors, compaction tools, feeders, and remotely controlled electronics to meet your powder and explosives compaction needs.
Powder Compaction Presses are available with hoppers, fill shoes, ejectors, shuttles, and conveyors, as well as with volumetric or loss-in-weight feeders. Three-piece powder dies are available with a floating or a fixed cavity, stripper, and punches.
Opposed Ram Compaction Presses allow for two modes of operation; both rams can com
Powder Compaction Slab-Side Press
This style of Powder Compaction Press produces larger-sized compacts in a segmented die which shuttles out. The die then splits open to expose the compact which can be easily lifted out, eliminating the need for a high-tonnage ejector which must be installed below floor level.
This 500 ton model (left) automatically feeds a weighed charge of powder into a segmented mold. Up to 500 tons of pressure compact the powder into shape. The mold segments automatically open, the press ejects the part and shuttles back for a refill from a loss-in-weight feeder.
Catalog Information on Powder Compaction Slab-Side Presses
Explosives Compaction Press
SAVAGE Explosives Compaction Presses feature single or opposed compactions rams and ejectors, tailored for your application. Setpoint programs for programmable speeds, pressures, dwell times, vacuum, tool temperatures, and quantity of pressure / hold applications are stored remotely via computer. This 300 ton Explosives Compaction Press produces LAW Rocket compacts for the United States military.
Catalog Information on Explosives Compaction Press
Watch Them Operate!
pact simultaneously, or one ram can remain fixed while the other ram compacts.