Analyzer Spare Parts Inventory Audit - Fast & Free
Featured Product from Siemens Analytical Products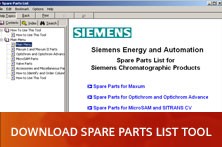 Downtime costs money. When your equipment goes offline, our domestic and international distribution centers can provide you with quick turn-around on spare parts. The support you need is available when you need it . . . 24/7.
The Spare Parts List is a tool that is intended to help users identify spare parts quickly and easily. The list is contained within a menu driven help file.
Spare Parts Inventory Audit
Our Analyzer Spare Parts Inventory Audit is Fast, Comprehensive and Free! Siemens wants to help you manage and mitigate the risks associated with the inventory you hold, and put you in control of costs. That's why our Spare Parts Inventory Audit is conducted by Siemens experts, with a written report back in your hands within a week of an on-site inspection! It can be conducted in a single day, and it's a completely free service!
Siemens Spare Parts Inventory Audit is a 4-step Process:
Pre Audit

Audit

Report

Consultancy
To learn more about this free service, contact your sales representative (ProcessAnalyticsSales.industry@siemens.com) today!