Pin Installation Technology
Featured Product from SPIROL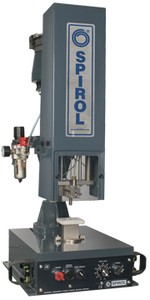 Cost effective, flexible solutions to your pin installation requirements.
• Trouble-free installation
• Guaranteed performance
• Maintenance-free operation
Here are our basic models:
Pin inserters and Pinning Systems
• Model PR Automatic Vertical Pin Inserters.
• Model CR Automatic Vertical Pin Inserters.
• Model CRD Automatic Vertical Pin Inserters.
• Model HC Automatic Dual Horizontal Pin Inserters.
• Model SG Automatic Dual Vertical Headed-Pin Inserters.
• Model PM Vertical, Manual Pin Inserter.
• Model PMH Vertical, Heavy Duty Manual Pin Inserter.
• Model DP Drilling and Pinning Machine.
• Pin Driving Chucks.
Streaming videos
Model PR
Model HC
Model SG
Model PM
SPIROL Pin Inserters feed all common types of pins — headed or straight — as well as bushings, rivets, compression limiters, and many other similar components.
Whether your requirements are for a standard pin inserter with or without fixturing or a custom designed system, we are dedicated to providing you with the best and most cost-effective solution.
Automatic Inserters are completely self-contained. The fastener is oriented in a vibratory feeder and fed to a shuttle mechanism that positions the fastener directly underneath the insertion quill. The shuttle is mounted on a retracting mechanism that positions the shuttle as close to the part as possible for insertion, yet out of the way for loading and unloading.
Vertical Pin Inserters are available in a wide range of sizes matched to pin lengths and insertion force requirements. Standard machines capable of simultaneous multiple insertions are available.
Horizontal Pin Inserters for single or multiple installations feature rotary shuttles for reliable pin orientation.
Manual Pin Inserters and Pin Driving Chucks provide sturdy, economical installation methods for low-volume work and prototype designs. Manual inserters require that the fastener be manually loaded into the part or the machine. The operator then completes the installation by depressing the arbor press lever.
We also build special machines around these standard models. Operations such as drilling, part feeding and inspection can be combined with installation. Fixturing to meet your requirements is readily available.
To order a free SPIROL Automation CD-ROM that demonstrates the pin inserters in operation, presents their versatility and how cost-effective modifications are provided for your application, click here.