Precision Machining Custom Gears & Assemblies
Featured Product from Stock Drive Products & Sterling Instrument - SDP/SI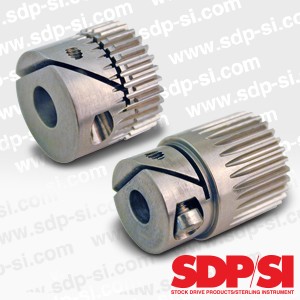 Stock Drive Products/Sterling Instrument, ISO 9001 + AS9100 certified, designs and manufactures custom and standard gears and other small power transmission components. Inch and metric dimensioned components and assemblies are manufactured to meet customers requirements and are found in a wide variety of product applications worldwide, including aerospace, medical, and commercial.
Machining in a variety of materials, custom capabilites include precision gears, gearboxes, differentials, and planetary gearheads. State-of-the-art gear production facility operates 24/7, including gear cutting on CNC lathes for one-piece flow (depending on quality (Up to AGMA 12) and process requirements).
Many of the SDP/SI custom gears feature the exclusive Fairloc® hub design. Standard spur gears are also offered, Fairloc® spur gears, identified as S1VS24-..., S1VC32-..., and S1VS48-... series are manufactured in stainless steel and fit shafts ranging from 1/8" to 3/8" in diameter with O.D.'s ranging from .375" to 4.250". Modifications and custom design are available.

SDP/SI is a leading manufacturer of precision and commercial quality small mechanical components and assemblies. Established in 1950, we provide motion control and small power transmission solutions for a wide variety of applications, including aerospace, medical, robotics, defense and more.
Let us quote your next project, speak to an engineer at (516) 328-3300.
Quotes, online orders, and 3D CAD models are available at our estore at http://shop.sdp-si.com/catalog/.
SDP/SI - Stock Drive Products/Sterling Instrument, a Designatronics company
250 Duffy Avenue, Hicksville, NY 11801
Phone: (516) 328-3300; (800) 819-8900
www.sdp-si.com