High-Precision Anti-backlash Shaft Differentials
Featured Product from Stock Drive Products & Sterling Instrument - SDP/SI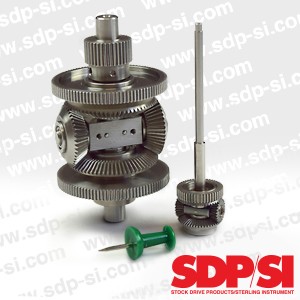 Hicksville, NY -- Precision shaft differentials manufactured by SDP/SI, feature built-in anti-backlash characteristics for eliminating play in shaft rotations. Identified as part number S9540A-TS9, the differential provides a high level of precision in instrument drives and is particularly effective at adding and subtracting shaft rotations in servo systems.

The patented unit (No. 3,137,181) consists of three stainless steel bevel gears mounted to a central spider block. Sterling Instrument will assemble any end gears ordered with the differential for no extra charge.

Specifications of the S9540A-TS9 anti-backlash differential are:
• Nominal shaft diameter: .125 in.
• Maximum load rating: 50 oz. in.
• Maximum operating speed: 1000 rpm
• Breakaway torque (one-tooth load): .15 oz. in.
• Breakaway torque (three-tooth load): .30 oz. in.
• Weight: 1.8 oz.
Compared to a maximum backlash of 10 minutes between end gears when using a standard differential, this unit ensures zero backlash within the rated torque and speed.
SDP/SI offers a wide variety of inch and metric small mechanical components for the design engineer and OEM. Standard components can easily be located and purchased in one convenient place, shop online 24/7. The engineer not only meets all his component requirements, but saves valuable time by not having to search other sources. For custom design and manufacturing, speak to our engineers at (516) 328-3300.

Quotes, online orders, and 3D CAD models are available at our estore at http://shop.sdp-si.com/catalog/.


SDP/SI - Stock Drive Products/Sterling Instrument, a Designatronics company
250 Duffy Avenue, Hicksville, NY 11801
Phone: (516) 328-3300; (800) 819-8900
www.sdp-si.com