On-Demand Webinar:
Oil & Gas Technology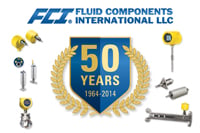 FCI is celebrating 50 years of experience as a flow and level solutions provider to the Oil/Gas Industry. FCI products include gas mass flow meters, liquid/gas flow switches/alarm, point level switches/alarms for liquids and interface, and flow conditioners. Our products are installed both onshore and offshore in numerous applications from well-head to mid-stream to refining operations.
Flare Gas Flow Measurement and Reporting
Analyzer and Sampling System Flow Monitoring
Vapor and VOC Recovery and Leak Detection
Nitrogen Flow Measurement in Blanketing and Inerting Systems
LNG Boil-Off Capture and Measurement
Pump Flow Assurance
Chemical Additives/Injection Flow
Tanker Loading/Unloading Vent Flow Assurance
Interface Control in Separation Vessels
Web Demo
Our booth features the ST100 Series Gas Mass Flow Meters for flow measurement in pipes diameters from 1 to 99 inches [25 to 2500 mm]. Take a self-navigated Web Demo to experience the industry's most feature-rich air/gas flow meter. Get product literature detailing special functions for Flare Flow Measurement.
Multi-Variable: Flow Rate, Totalized Flow, Temperature, Pressure
4-20mA, HART, Foundation Fieldbus and more
Best in Class Digital/Graphical Display
Up to 1000:1 Turndown
Global Agency Approvals For Div.1/Zone 1 Installations
Web Video
The VeriCal In-Situ Calibration Video demonstrates FCI's system enabling field validation/verification of a meter's performance without meter extraction.
Flow/Level Switches
SIL 2 rated FLT93 Series is worldwide standard for no/low/high flow detection of all liquids or gases and liquid point level detection.
Flow Conditioners
Vortab Flow Conditioners solve lack of straight-run for flow meter installations.

Prizes/Giveaway
Visit the FCI booth to enter to win a new iPad Mini!