Ceiling Tiles and Panels Information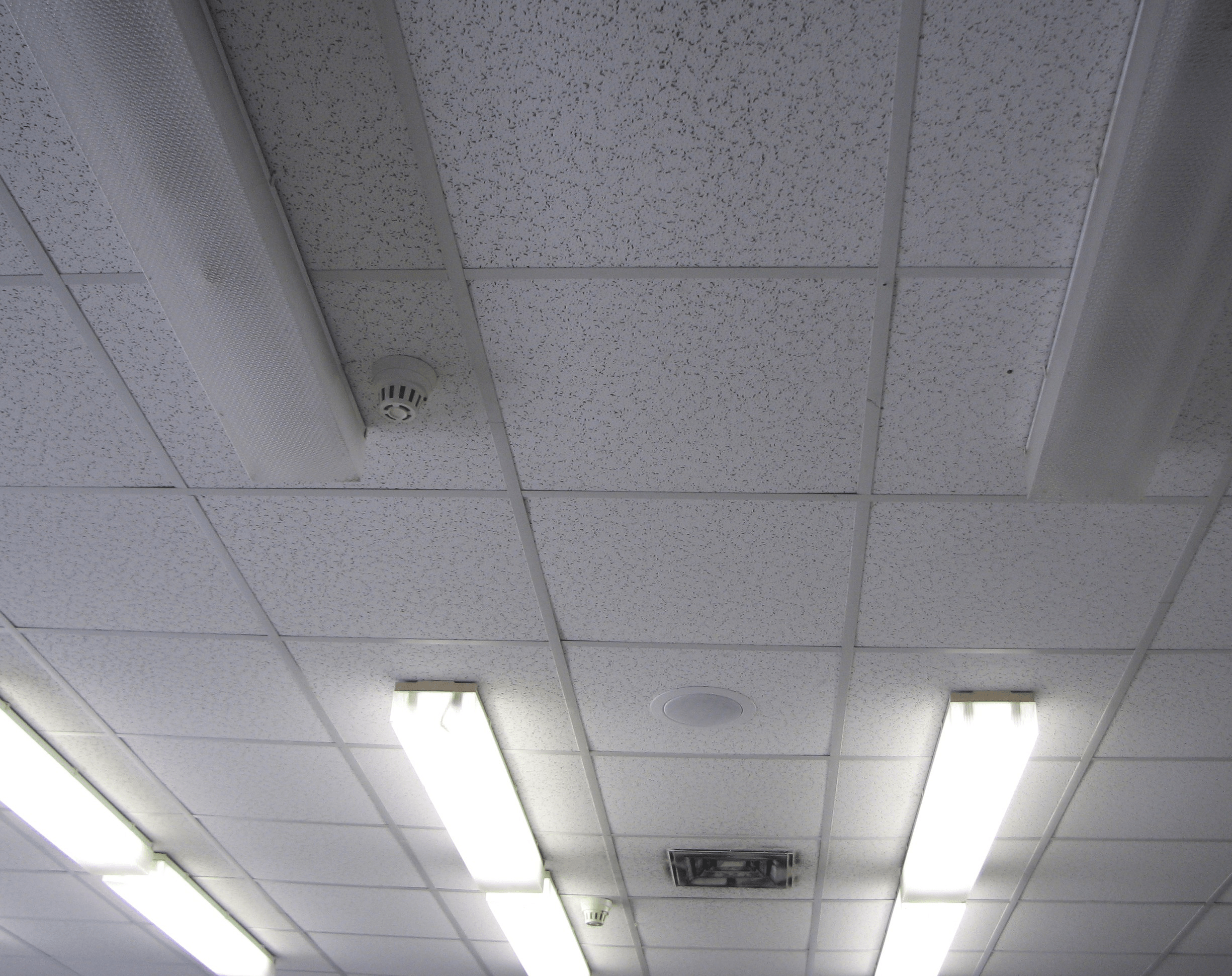 Ceiling tiles and ceiling panels are products and materials used to finish and/or decorate room ceilings. They are used with cathedral, coved, decorative, domed, shed, suspended, tray, and vaulted ceilings.
Types
Cathedral ceilings follow the roof's pitch and angle upward from walls to peak.
Coved ceilings are rounded at the corners of the room.
Decorative ceilings are covered or clad with wood paneling or pressed metal.
Dome ceilings or ceiling domes are designed to enhance entry ways or interior rooms.
Shed ceilings are similar to cathedral ceilings, but the rise angle is not as steep.
Suspended ceilings or drop ceilings consist of a metal grid with removable panels. The structure attaches to the ceiling joists or existing ceiling to hide cracks or conceal pipes and mechanical equipment.
Tray ceilings have an angle or vertical soffit around the perimeter.
Vaulted ceilings are arched and may require specialty ceiling coverings.
Materials
There are many different types of ceiling coverings. Aluminum ceilings, aluminum tiles, and aluminum ceiling tiles may snap together or require a wooden substrate for nailing in-place. Tin ceilings, tin tiles, and tin ceiling tiles use similar mounting methods. Metal ceilings that are made of steel or stainless steel are also available.
Standards
Some steel ceilings and stainless steel ceilings comply with requirements from the American Society for Testing and Materials (ASTM) for the manufacture, performance, and testing of metal suspension systems for either acoustical tile or lay-in panels. Metal ceilings may consist of planks or curved panels, and are available in various colors and finishes.
Specifications
Metal acoustical ceilings are used to absorb sound in:
classrooms
hallways
gymnasiums
pumping stations
sewer treatment plants
airports
other noisy environments
These durable ceiling coverings are designed to last longer than other acoustic ceiling treatments such as popcorn ceilings. Ceiling tiles, ceiling planks, and plank paneling are available in light, medium, and dark-colored woods. These ceiling coverings and laminate ceiling planks are smooth, patterned, or textured products that may retard fire or reflect light. Composite boards and composite ceiling tiles may contain gypsum for sound blocking and fiberglass for sound absorbing. Drywall finished ceilings may be coated with textured paint to cover cracks or other surface irregularities. Cell ceilings, mirror ceilings (mirrored ceilings), and various ceiling coverings are also available.
Related Information
CR4 Community—Sound-Proofing Basement Bedroom
CR4 Community—Mixing Acoustics and Aesthetics on Skype's Ceiling
CR4 Community—Beadboard Ceiling
Image credit:
Adamantios / CC BY-SA 3.0